Fraternity and sorority involvement helps promote OLLU's Core Values of Community, Integrity, Trust and Service. These organizations help students become great leaders on campus and in the community.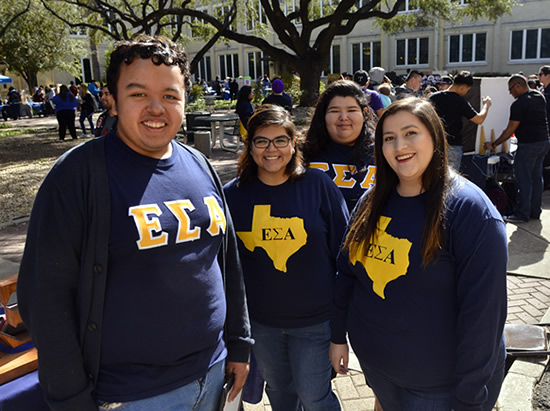 Greek life at OLLU is comprised of local, national and international organizations, embracing the diversity of the students on campus as well as the charter organizations.
Involvement in Greek-letter organizations allows members to expand their leadership qualities, serve the community and excel academically, while creating a sisterhood or brotherhood with their fellow members.
The Greek community at OLLU is self-governed with the Saints Greek Council serving as the governing body for all of the fraternities and sororities.
Greek Organizations at OLLU
Delta Xi Nu
Committed to the furtherance of multiculturalism by promoting diversity and cultural awareness at OLLU and in the community.
Epsilon Sigma Alpha
A service organization for women, ESA pursues excellence through meaningful service to others, resulting in the self-fulfillment of its members.
Kappa Delta Chi
KDChi Sorority Inc. promotes the traditional values of unity, honesty, integrity, and leadership among women at its respective colleges and universities.
Sigma Theta Epsilon
Promotes the organization and university of men of all different Christian denominations who love God and want to learn how to serve Him better through service and fellowship.
Theta Nu Xi
Promotes leadership, multiculturalism and self-improvement through academic excellence, involvement in and service to the community, as well as being living examples of sisterhood across different races, cultures, religions, backgrounds and lifestyles.