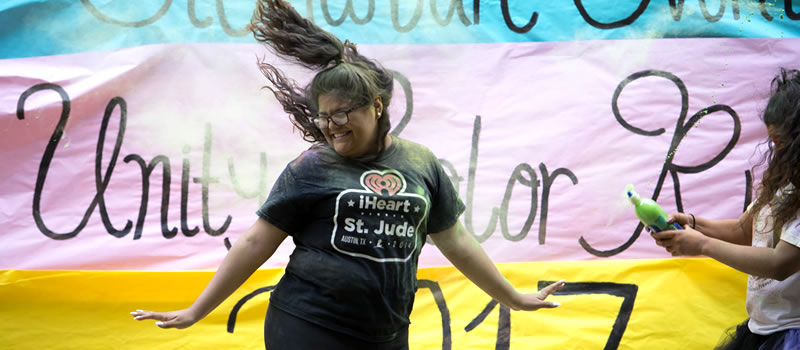 At OLLU, the opportunities are limitless. With more than 50 clubs and organizations available for students, it is easy to get involved on campus. Academic clubs, honor societies, a flourishing Greek presence and many special interest groups enable students to connect with peers, develop their leadership skills and serve the university and the surrounding community.
Involvement in co-curricular activities is an integral part of OLLU's commitment to educating the total person. Get involved and take advantage of leadership opportunities to make the most out the OLLU collegiate experience.
The Center for Student Involvement (CSI) Office coordinates the Chartered Student Organization (CSO) and Registered Student Organization (RSO) recognition process and policies.
Chartered Student Organizations
Chartered Student Organizations are sponsored groups under the umbrella of a university department and are directly funded by the university. The mission statement, purpose statement and constitution of a CSO should be in accordance with both the department and the university mission statement.
Student Government Association (SGA)
The Student Government Association is the voice of the student body and includes all university students as members. SGA provides avenues for open dialogue between the students and staff, faculty and administration to collaboratively enhance and improve the campus community.
Saints Productions Board (SPB)
The Saints Productions Board is a group of leaders who plan and coordinate events for the student body. SPB develops a campus community through entertaining and enriching programs that range from traditional OLLU events to awareness events dealing with current issues.
Peer Mentoring Program
The Lake Ambassador Peer Mentoring Program offers current students the opportunity to support new students and help them navigate through the transition to university life. Peer mentoring is an hourly-paid, on-campus employment opportunity. Peer mentors also receive training to develop important leadership and communication skills. Learn more by visiting the Peer Mentoring webpage.
First Year Connection (FYC)
The FYC student leaders provide incoming freshmen and transfer students with programs and activities that ease their transition into college life at OLLU.
Leadership Institute for Freshman Excellence (LIFE)
A component of FYC, LIFE is a freshman leadership co-curricular opportunity that is available only in the fall semester to help new students transition into college and enhance personal leadership skills. All LIFE members receive a FYC mentor.
vOLLUnteer Unity Council (VUC)
The vOLLUnteer Unity Council is a service programming student organization and one of the five major programs in the Center for Service-Learning and Volunteerism (CSLV). VUC plans large service events for the campus community, small one-time service projects and ongoing programs for any OLLU student.
Active Minds
Active Minds works to utilize the student voice to change the conversation about mental health on campus. The organization provides information and resources while encouraging students to learn about counseling opportunities.
Mexican American Student Association (MASA)
MASA works to promote student success through cultural programming, coursework and research opportunities.