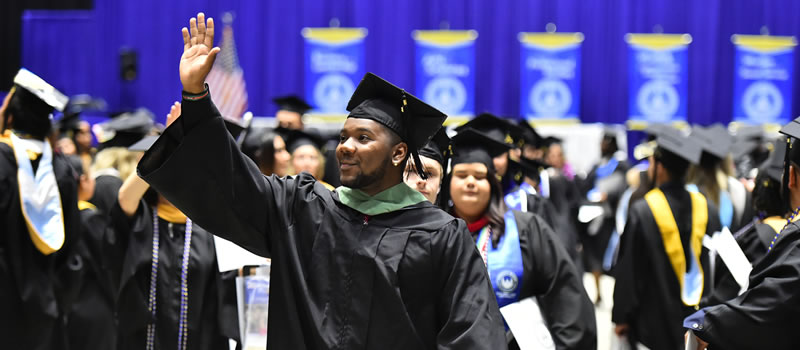 Through the heritage passed down by our founders, the Sisters of the Congregation of Divine Providence, Our Lady of the Lake University (OLLU) is called to a higher purpose. That higher purpose – to transform the lives of our students and through them create a better world – is the focus of our strategic plan.
Our goal is to equip our students with the skills and confidence to make a difference in their families, communities and careers. We believe that excellent academics, clear pathways to success, a supportive community and a spirit of innovation are the tools our students need to be catalysts for social justice and a force for good in the world. Our plan is organized around these themes and will carry us through the next seven years.
Theme 1: Our Academic Excellence Transforms
When the Sisters of the Congregation of Divine Providence began their work in 18th century France, they knew that they could affect the greatest and most sustained good through education. When they came to South Texas, they looked at the needs of the region and developed academic programs that would produce graduates who could meet those needs.
The mission of OLLU calls us to ensure quality, innovative undergraduate and graduate learning experiences. The objectives under Theme 1 will ensure we are meeting this directive from our mission in a way that honors the work of our founders.
Strategic Objective 1: Develop New Academic Programs that Complement OLLU's Mission and Enhance its Reputation
As members of the OLLU community, we have inherited the Sisters' spirit, and we will carry it forth by identifying the needs of our times and developing academic programs, the facilities to support them, and the methods to deliver them that will produce graduates who will be agents of change in their communities.
Strategic Objective 2: Design Academic Offerings to Propel Academic and Professional Success
To live up to our mission, we will design our courses and build our structures, processes and experiences to ensure we are providing a platform for success for our students.
Strategic Objective 3: Build Academic Competitiveness
The OLLU vision statement puts forth an aspiration for the university to be nationally recognized for our distinctive programs. National recognition requires excellence and excellence requires a strong foundation on which to build. By adopting best practices, investing in key areas and improving basic elements, we will position the university to reach the aspirations spelled out in the vision statement.
Theme 2: Our Practices Elevate Success
The OLLU mission calls us to prepare our students for success and continued service. We must ensure that all of our practices create a platform for success. We have great expectations of our students to improve our world. We must create a clear path and provide the necessary tools for their success. The objectives under Theme 2 are designed to create a launching pad for success.
Strategic Objective 4: Leverage Retention and Recruitment Best Practices
OLLU serves a number of distinctive student groups at the undergraduate and graduate level. We will research and implement retention and recruitment practices that take into consideration the unique needs of our various student groups.
Strategic Objective 5: Transform Student Advising
OLLU will implement customized advising models that best serve our distinctive student groups.
Strategic Objective 6: Develop Ways to Ensure Affordability and Cost Containment
Recognizing that education is the best path to social justice and social change, OLLU will develop ways to contain tuition costs and continue to make our unique brand of higher education affordable to all.
Theme 3: Our Vibrant Community Soars
The first Sisters of Divine Providence provided an example of how community support can create fertile ground for growth and expansion. The Sisters went out into the villages and brought no resources to sustain themselves. They relied on Providence, which came in the form of support from the villagers. This type of community support is what we seek to perfect so that we can live our mission and foster spiritual, personal and professional growth in our students. The objectives under Theme 3 will ensure that our resources are aligned properly for this level of support.
Strategic Objective 7: Invest in Student Experiences and Campus Vibrancy
OLLU will ensure that we have the resources, processes and organizations in place to create a vibrant, supportive environment for students at all levels and on all campuses.
Strategic Objective 8: Reconfigure Existing University Space to Maximize Student Engagement
Using the beautiful, historic spaces that exist on campus, OLLU will reconfigure and reassign spaces to ensure that students at all levels are engaged in our active, supportive campus.
Strategic Objective 9: Redefine and Expand Athletics
Recognizing that physical activity and athletics play key roles in a vibrant campus, OLLU will review space, resources and fundraising related to recreation, fitness and sports and plan for growth in these areas.
Theme 4: Our Innovative Spirit Leads
Innovation requires risk. Trust in Providence gave the Sisters the confidence to step out and try new things. The Sisters' trust in Providence is our inheritance as members of the OLLU community. Trusting in Providence gives us the innovative spirit we need and the necessary environment to foster the ideas that will change our world.
Strategic Objective 10: Create an Environment to Foster and Support Innovation, Sustainability and Financial Viability
Connecting to our heritage, OLLU will provide support and foster trust in Providence to feed innovation.
Detailed information about the objectives outlined above can be found via the Strategic Plan Sharepoint website (login may be required).