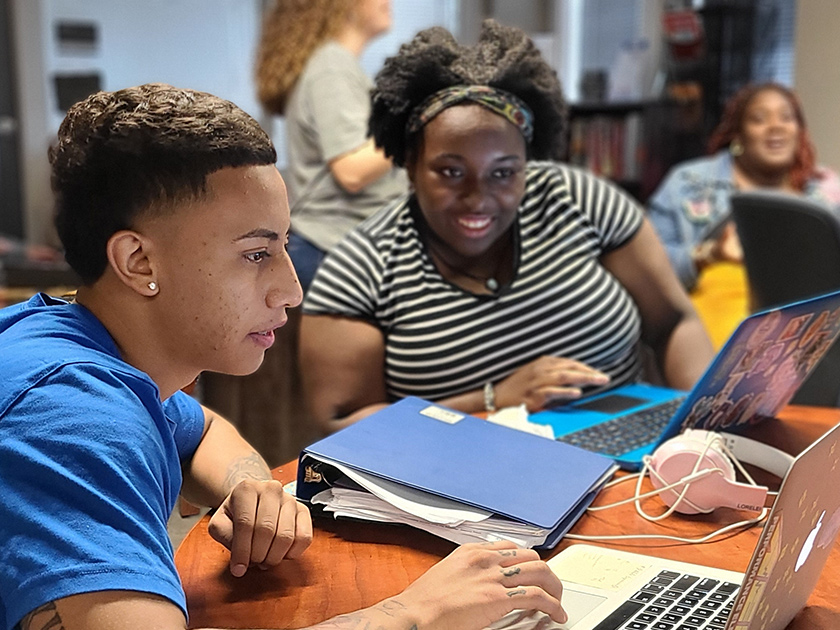 The Ronald E. McNair Post-Baccalaureate Achievement Program, one of the federally funded TRIO programs sponsored by the U.S. Department of Education, has existed at Our Lady of the Lake University for over 25 years. The program was established by Congress in 1989 in honor of Dr. Ronald E. McNair who tragically lost his life during the 1986 Challenger Space Shuttle explosion.
The goal of the McNair Scholars Program is to increase doctoral degree attainment by students with limited income and who are first-generation college students or students from a racial or ethnic minority underrepresented in doctoral studies.
The purpose of the program is to prepare eligible and academically talented undergraduate students for admission into doctoral (PhD or equivalent) programs by providing a simulate graduate school experience in an encouraging and supportive environment.
Program Objectives
95% of McNair Program participants who initiated research or scholarly activities during the McNair Program academic year will have completed these activities during the academic year.


70% of McNair Program bachelor's degree recipients (or equivalent) will be accepted and enrolled in a graduate program of study by the fall term of the academic year immediately following the completion of the bachelor's degree (or equivalent).



83%

of first-year graduate students will continue to be enrolled in graduate school at the beginning of the fall term of the next academic year.


8% of McNair Program participants served who will attain a doctoral degree within 10 years of the attainment of the bachelor's degree.
Program Benefits
10-week paid summer research internship
Faculty mentorships
Graduate Record Examinations (GRE) preparation & fee reduction
Academic coaching
Graduate school visits
Professional research presentations
Leadership opportunities
Graduate school application support
Why Ph.D. or Equivalent
There are many reasons why earning a doctorate degree can be beneficial to your professional and personal life. Some benefits include:
Increase earning potential:
According to the Bureau of Labor Statistics , individuals with a doctoral degree can expect higher wages and lower unemployment rates compared to those with a bachelor's or master's degree.
Career flexibility and security:
A doctoral degree is not just for academics, many private institutions are looking for individuals with high level critical thinking and research skills which are gained through a doctorate program.
Make a difference with your research:
Your ideas and lived experiences are invaluable to advancing knowledge in your field.