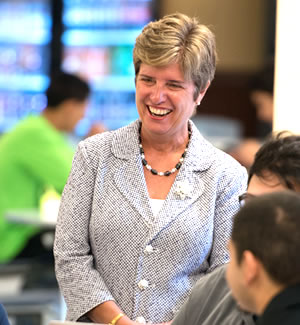 Diane E. Melby, EdD, began her position as Our Lady of the Lake University's (OLLU) ninth president in July 2015.
In her years at OLLU, Dr. Melby has led efforts for the construction a new residence hall on the OLLU San Antonio campus, overseen the construction of new facilities for the OLLU campuses in Houston and the Rio Grande Valley, and secured a new home for the university's community counseling and speech and hearing clinics that serve the West Side community. In addition, she has guided the update of the OLLU strategic plan, doubled fund raising efforts and increased the endowment by $5 million. She also has overseen an increase in freshman enrollment and retention. In 2021, she lead the launch of the $55 million Higher Education, Higher Purpose capital campaign, the largest in the university's history. The campaign has already reached more than 95% of its goal.
Dr. Melby previously served at Shepherd University in West Virginia where she was the vice president for advancement since 2008 and completed a $26 million comprehensive fundraising campaign. In addition, she served as interim vice president for academic affairs and in an executive oversight role in enrollment management. She developed institutional identity and community relations initiatives, and established key academic programs focused on student success and degree completion.
Prior to joining Shepherd University, Dr. Melby served from 2001 to 2004 as the dean of the School of Continuing Education at Shenandoah University in Virginia, establishing undergraduate and graduate programs for professional development and a lifelong learning program for personal enrichment. In 2004, she transitioned to institutional advancement where she led the completion of a $65 million campaign.
Dr. Melby's career in higher education began at Lord Fairfax Community College in Virginia where she built partnerships with schools in the service region to form articulation agreements that focused on increasing matriculation and college attainment, especially of first-generation and at-risk traditionally-aged undergraduate students. Additionally, Dr. Melby was instrumental in working with business leaders to identify and develop academic programs in support of key economic sectors, including health care, business, manufacturing, and information technologies.
Dr. Melby's passion for education was fueled by her earliest experience teaching students with severe manifestations of autism. This experience instilled in her a lifelong interest in exploring the learning process and utilizing new methodologies to deliver instruction, and she is ardent about developing structures that support student success.
A native of New York, Dr. Melby completed a bachelor of science at Slippery Rock University, a master of education at James Madison University, and a doctor of education at Nova Southeastern University.
View Previous University Presidents