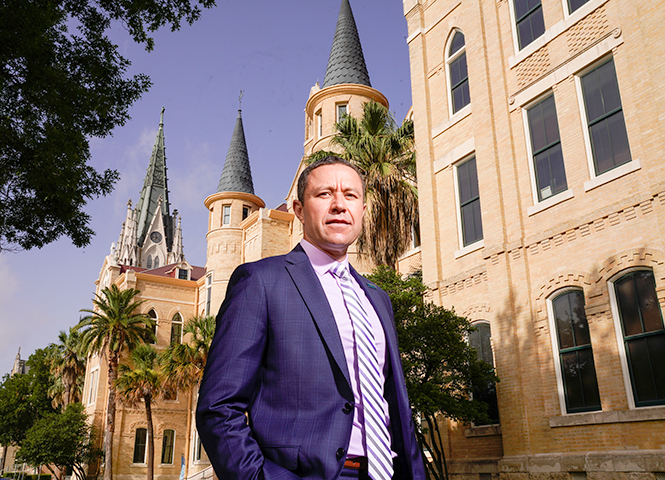 Dr. Abel Antonio Chávez began his tenure as the 10th president of Our Lady of the Lake University (OLLU) in July 2022.
He has energized the university by leading efforts to secure more than $31 million in donations and grants and raised its profile through extensive outreach with local, state and national leaders.
An integrative leader and learner, Dr. Chávez has served in multiple roles in and beyond higher education. A civil and environmental engineer, he is a global leader in community-based energy, material, and greenhouse gas emissions accounting and has partnered with various local governments and institutions of higher education across the world. His personal and professional background affords him a unique perspective and holistic understanding of the university operation.
A first-generation, first-in-family college graduate, son of immigrants, and bilingual administrator and academic, Dr. Chávez is committed to enhancing quality, access and affordability for all students while serving the needs of families, economies and communities. In his first year at OLLU, he created the Futuro Leaders Scholarship Program, providing first-generation college students a full-tuition scholarship while giving them the opportunity to develop their inherent leadership skills and grit. Dr. Chávez personally mentors the students in the program.
As a scientist with a commitment to serving minority and underserved students, Dr. Chávez supports student-led initiatives that elevate educational attainment goals. He has led several efforts including initiatives for Mexican students through a partnership with the Mexican federal government's IME Becas program, and one with the State of Colorado for underserved and rural students.
As a recognition of his commitment and service to communities and education, the Mexican Government presented Dr. Chávez with the Ohtli Award, their highest civil honor.
Dr. Chávez is a recognized expert in the field of higher education especially related to first-generation, Hispanic students. He is a regular presenter among higher education organizations, and corporate and community groups. He recently was appointed to the governing board of the Hispanic Association of Colleges and Universities (HACU).
Dr. Chávez holds an associate of science from Front Range Community College, a BS in Mechanical Engineering from the University of Colorado Denver, an MBA from the University of Houston, and a PhD in Civil and Environmental Engineering from the University of Colorado Denver.