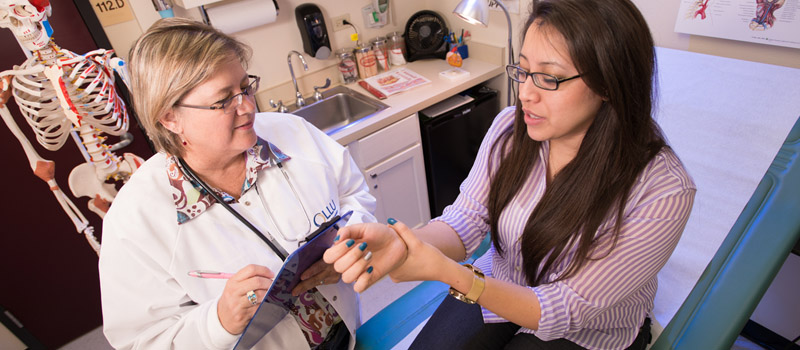 The Health Services Office is the on-campus medical clinic for health needs and educational information. The professional staff offers services for minor acute and chronic illness as well as preventative care and health education. Services are available to all current students, faculty and staff.
Notice: Change of Services
Due to the COVID-19 pandemic, OLLU's Health Services Office will unable to accommodate any face-to-face appointments at this time.
The Health Services staff will continue to offer health resource information and direction over the phone at 210-431-3919 during normal business hours.
Monday-Thursday: 9 a.m.-6 p.m.
Friday 9 a.m.-5 p.m.
Additionally, staff is monitoring all emails sent to healthservices@ollusa.edu.
Services Offered
Treatment of minor acute and chronic illness
Consultation for minor illness
Referral services
First Aid for minor injuries
Asthma Management/ Nebulizer Treatments
Female/Male physical exams
Self-Breast Exam Training
Self-Testicular Exam Training
Blood Pressure Monitoring/Diabetes Screening
TB Skin Testing
OLLU students are able to utilize most of the services offered by Health Services for free. The only fees that are assessed are for some vaccinations.
Although appointments are recommended, walk-ins are accepted depending on the Nurse Practitioner's availability.
Helpful Resources
Information about Mental Health
Information on Substance Abuse
Information about Physical Violence and Stalking
Information for Suicide Prevention
Free HIV Testing
Free HIV Testing - Funding for this program is courtesy of the Nonprofit Division of STD Check and in collaboration with LabCorp and Quest Diagnostics. This program is 100 percent free due to funding through the Bill and Melinda Gates foundation as well as the Center for Disease Control (CDC).
Privacy Policy
The communication of medical information via the Internet and/or email is prohibited by the Health Services Office. Review the Notice of Privacy Practices for more information .