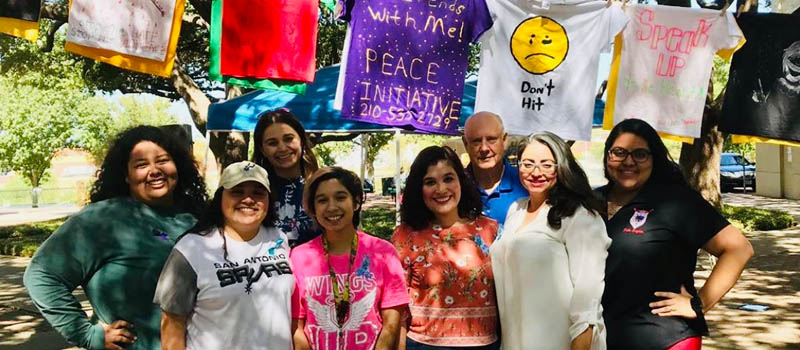 The university experience can be a time of substantial growth for students filled with changes, challenges, and new decisions. Counseling Services offers a safe and confidential community of mental health care to help students navigate these changes, resolve psychological distress, and develop a life-long orientation to resilience and mental and emotional wellness.
Services
Counseling Services' therapists are available to listen to and support students during their time at OLLU. Whether they are feeling stressed, worried, sad, having trouble with relationships, having difficulty with family, or are uncertain about what to do in school, Counseling Services is available to help.
About Counseling
Counseling sessions can be virtual or in-person and last 45-50 minutes. They are free for currently enrolled students living within the state of Texas. The student and counselor will work together to determine how many counseling sessions would be appropriate based on their needs and Counseling Services resources. Typically, a plan is outlined at the start of their counseling and is reassessed and adjusted as therapy unfolds.
Scheduling Sessions
Students can set up a therapy appointment by visiting the office in Walter Student Service Center, Suite 206, or by contacting them by phone at 210-431-4053.
TimelyCare
All OLLU students also have access to free mental health services through Timely Care. Services are provided 24/7/365; both "talk now" appointments (if you need to speak with someone immediately) and scheduled counseling appointments are available. You can set up an appointment here or by downloading the TimelyCare app.
Group Therapy helps students share their experiences with a small group of their peers and a counselor. Group therapy is as effective, and in some cases, more effective than individual therapy. Many clients find group therapy helps them to feel a greater sense of connection to others and normalizes what they are going through. Current groups include:
Veteran's Support Group
Empowered - support group for survivors of intimate partner and sexual abuse.
Workshops are opportunities to learn and practice different coping skills and wellness habits aimed toward improving mental health. Topics include:
Stress Management
Self-care
Happiness and wellbeing
Communication and assertiveness
Members of the OLLU community are encouraged to prioritize their wellness by attending one of the workshops. Everyone is welcome and no appointment is required. If you are interested in requesting a specific workshop for an organization, club or class, contact Counseling Services.
It is our mission at Counseling Services to go beyond the walls of our offices and reach out to the campus community to promote psychological and interpersonal wellness on campus. We lead our outreach work with a multicultural and holistic perspective that is collaborative in spirit. We believe that a healthy environment is an essential piece for the individual students' wellness and academic success and partner with campus community members in creating a socially just climate that sustains and fosters wellness, diversity and inclusion.
Some of our outreach events include:
Stomp Out Stigma
Clothesline Project
Walk the Line
Galentine's Day
Painting with a Counseling Twist
Soulful Stories - A Celebration of Black History Month
When you have a mental health related concern or question, know that the Counseling Services staff is available to provide help. Please note that consultation is not counseling. Consultation is a very short-term conversation which focuses on problem-solving of a specific concern. Students, faculty and staff, as well as family and friends of our students are welcome to reach out to Counseling Services for a consultation meeting.
Some examples of consultation topics include:
Concern about the well-being of a/another student
Responding to a crisis or a sudden change (such as death or illness of a student or family member)
Concern about potential threats of violence or self-harm
Interpersonal conflict in the classroom, living situation or the workplace
Issues that affect the campus climate and student wellness
Questions about a mental health topic or available services
Guidance on how to refer your student to Counseling Services
Please know that consultation is a confidential service and what you have shared with us will remain confidential. If you are contacting us to exchange information about a student who you believe is a client in our system, please remember that without a written consent from the student, we cannot confirm or deny that we know the person. If you are contacting us to report an incident or patterns of distressed, disturbing or disruptive behavior, please also file and Student Behavioral Concerns report here.
If there is an immediate threat to a student's physical safety, or a threat to another person's physical safety, students are strongly encouraged to contact 911 or go to the nearest emergency room.
If a student has an urgent mental health need during business hours, Counseling Services therapists are available between the hours of 9 a.m.-5 p.m., Monday through Friday, in Providence Hall, Room 101.
Examples of urgent needs include:
A student is having suicidal thoughts and is worried they are unable to keep themselves physically safe.
A student has recently experienced a physical or sexual assault.
A student states they are hearing or seeing things.
A student recently experienced or witnessed a threat to life or safety.
A student has recently experienced the death of a loved one.
Emergencies
During an emergency, if you are not able to visit the Counseling Services Office or it is after hours, please contact the University Police at 210-433-0911. Students experiencing emergencies after hours and off campus, please call 911 or go to the nearest emergency room. Please take note of the following emergency numbers:
The National Suicide Prevention Lifeline: 1-800-273-8255 or text "home" to 741741
Crisis Care Center - Assessment over the phone: 210-225-5481
The Center for Health Care Services Crisis Line: 210-223-7233 or 1-800-316-9241
Emergency Room at University Hospital: 210-358-2078
The United Way Help Line: 210-227-4357
Emergency rooms close to the San Antonio campus
Methodist Specialty and Transplant Hospital Emergency Room
8026 Floyd Curl Drive
San Antonio, Texas 78229
https://methodistphysicianpractices.com/location/psychiatric-inpatient-management-services
Metropolitan Methodist Hospital
1310 McCullough Ave.
San Antonio, Texas 78212
Main Number 210-757-2200
Emergency Department 210-757-2280
http://sahealth.com/location/metropolitan-methodist-hospital
University Hospital — Psych ER
4502 Medical Drive
San Antonio, Texas 78229
210-358-8881
https://www.universityhealthsystem.com/services/behavioral-health
San Antonio Behavioral Healthcare Hospital
8550 Huebner Road
San Antonio, Texas 78240
210-541-5300
http://www.sanantoniobehavioral.com/
Unless noted, these phone numbers are available 24 hours a day, seven days a week.
Don't want to talk? You can also get support through text and chat, available 24 hours a day, seven days a week.