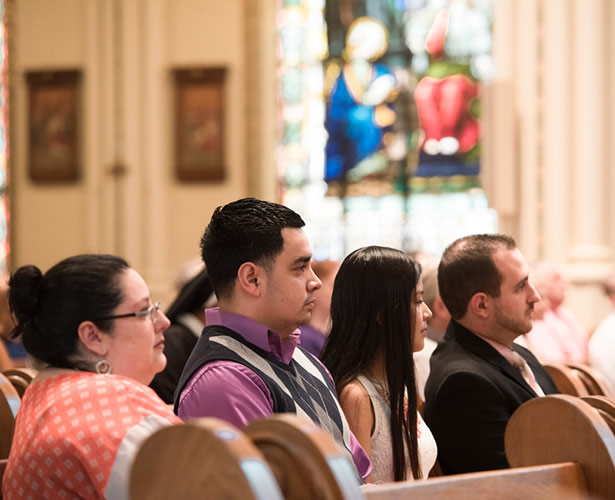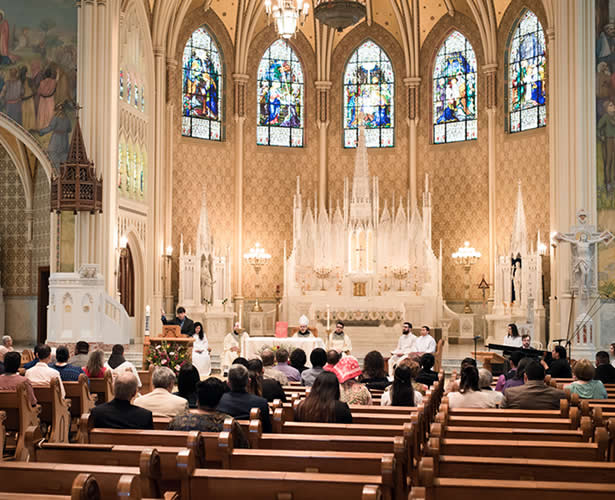 "We seek to create an environment in which we worship together. When we worship together we create community. We invite all members of our University to take an active role."
Daily and Weekly Mass
By gathering to pray in public, we mark our time together as sacred and we recognize that we are in the presence of our loving God. Our worship nourishes us and also impels us to live our lives with Gospel values and the call of our Provident God to share all that we are with others. All are invited to join us in our Catholic Liturgical celebrations.
Worship Services
Throughout the academic semesters, the following worship services are offered regularly:
Sundays - 7 p.m. - Liturgy - Sacred Heart Chapel
Tuesday, Wednesday, Thursday - 12:25 p.m. - Daily Liturgy - Constantineau Chapel
Volunteer Opportunities
Liturgy, the work of the people, calls forth student leadership in vocal and instrumental music ministry, hospitality, proclamation, and serving as Eucharistic Ministers, and is always open to all who have been called and formed for their ministry. Students who are interested in Liturgical Ministry may become involved through the following volunteer opportunities:
Cantor – Individuals who desire to lead the assembly in liturgical singing are encouraged to explore the ministry of the cantor.
Lector – A person who proclaims the Scriptures during liturgical services
Choir Member – If you love to sing you can volunteer to be part of the University Ministry choir, not necessarily affiliated with the University Chorus
Altar Server – Assists the priest in preparing the altar and assisting at our liturgical services
Extraordinary Minister of Holy Communion – Those who assist in sharing the Body and Blood of Christ during our Eucharistic celebrations
If you are interested in any of the above, contact University Ministry at ministry@ollusa.edu for training and involvement.
Sacramental Preparation
RCIA, the process by which adults come into the Church, has come to be known as "the RCIA," which is short for "The Rite of Christian Initiation of Adults."
This process is for:
The unbaptized. The primary focus of the Rite of Christian Initiation of Adults is on those who are not already Christian and have not been catechized.
Baptized but uncatechized. Those who have been baptized either as Roman Catholics or as a member of another Christian community but did not receive further catechetical formation or instruction. These typically have also not celebrated confirmation nor Eucharist.
Those seeking full Catholic Communion. These are baptized, practicing Christians from other denominations who seek entry into the Catholic Church.
If you are interested in receiving your Sacraments, complete the Sacramental Prep Application. Please submit if you:
Have never been baptized, but wish to become Catholic.
Have been baptized in another Christian denomination and wish to become Catholic.
Have been baptized Catholic, but wish to receive the Sacraments of First Communion and Confirmation.
Have been baptized Catholic and have received First Communion, but wish to receive the Sacrament of Confirmation.
Lenten Opportunities
University Ministry hosts various events throughout the Lenten season for members of the OLLU community as well as the surrounding community to attend. Examples of events held include:
Ash Wednesday services
Weekly Stations of the Cross on Fridays
Weekly Rosary within the context of Adoration of the Blessed Sacrament on Mondays
Additionally, University Ministry has previously partnered with student organizations to host the 40 Cans For Lent food drive. This food drive was inspired by San Antonio Archbishop Gustavo García-Siller's interpretation of 40 acts that each Christian can do for Lent.
Special Events
There are several annual traditions that are hosted by University Ministry. Through these events, the OLLU community is able to come together to share in our joys and struggles through various faith expressions.

These events include: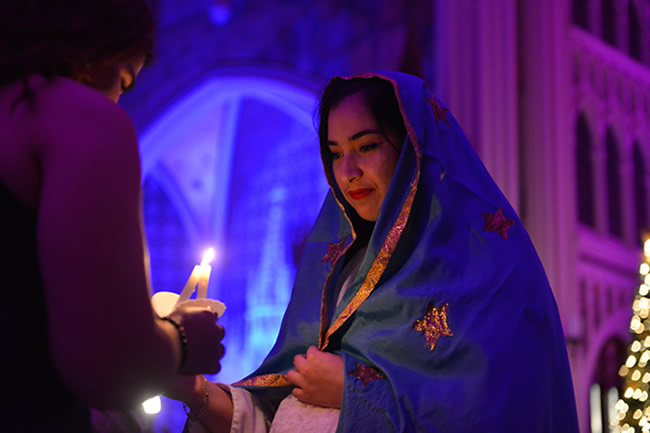 University Convocation
New Student Convocation
Spirit Day
Dia de los Muertos
OLLU Christmas Tree Decorating
Las Posadas
Candlelight
Loaves and Fishes
Ring Blessing
Graduation Liturgy
The Feast of Our Lady of Guadalupe