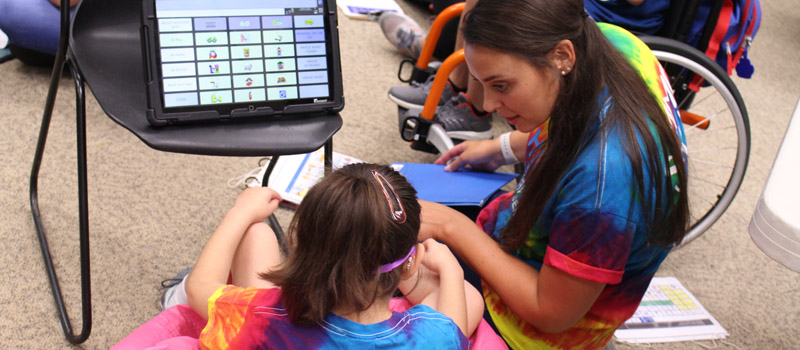 Summer Program
---
About Be AACtive Communicators
Summer Program for Augmentative and Alternative Communicators
The Be AACtive Communicators Summer Program is provided by Our Lady of the Lake University and the Harry Jersig Speech-Language-Hearing Center. The program offers beneficial therapy for a nominal fee for children using Augmentative and Alternative Communication (AAC). Participants will work individually or in small groups with other individuals who have similar difficulties and needs in order to maintain and continue communication progress.
Individual therapy sessions meet for up to 30-45 minutes each day. Group therapy sessions meet from 9:30-11:45 a.m. each day. Goals are addressed through interesting activities such as arts and crafts, music and games appropriate to each individual/group. Groups will be divided by:
Beginning AAC device users - able to engage in play activities and use their device to answer questions using a one or two symbol response
Intermediate users - able to form three-to-four word messages
Advanced users - capable of more complex syntactic abilities and need to address critical thinking and/or pragmatic language goals
First-year graduate students from the Woolfolk School of Communication Sciences and Disorders will conduct therapy under the guidance and supervision of the OLLU Clinical Faculty. Each client will be paired with a graduate student clinician who is familiar with their specific goals.
Application Information
The Be AACtive Communicators Summer Program Coordinators determine admission to the program. A maximum of 15 clients will be accepted. The application does not guarantee acceptance into the program. The Summer Program Coordinators determine admission to the program. Placement in a group is only possible if there is a group available that matches you/your child's skills and needs.
Requirements
Enrollment Packet (Client Information Form)
$10 nonrefundable application fee (cash or check payments need to be submitted along with the application at the HJC Main Office or card payments can be submitted to the HJC Main Office over the phone by calling 210-528-7115)
ARD/IEP, Treatment Plan/Plan of Care and/or recent Evaluation Report
Observation Release Form (upon acceptance)
Complete forms and return to:
Our Lady of the Lake University
Harry Jersig Speech and Hearing Center
411 S.W. 24th Street
San Antonio, Texas 78207-4689
For more information, call 210-431-3938.