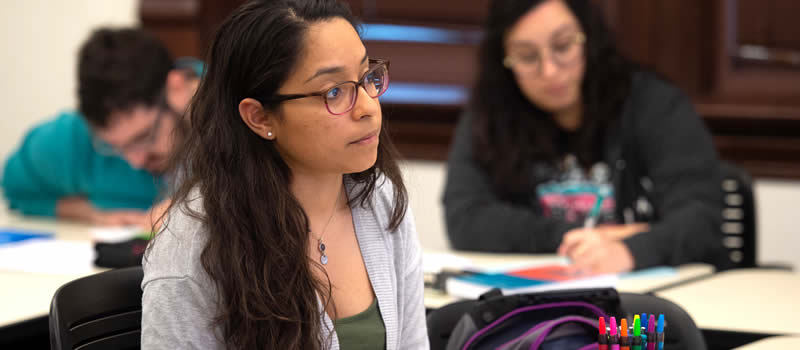 Get started on your Journey
Our Lady of the Lake University's combined Master of Arts-Master of Fine Arts (MA-MFA) in Literature, Creative Writing and Social Justice prepares students to become critically engaged and socially aware scholars, writers, educators and professionals. This unique program is designed to attract and foster the growth of individuals who wish to combine creativity with practical skills and critical knowledge, all while keeping in mind the pursuit of social justice in their own work, their communities and their professional practice.
Program Design
The combined MA-MFA program can be completed in less than three years if a student takes courses in the fall, spring and summer semesters. For those who do not choose to take courses in the summer, the program can still be completed (including thesis and comprehensive exams) in three years.
For students who do not wish to pursue the combined degree, a traditional Master of Arts degree in Literature, Creative Writing and Social Justice is also available. The program can be completed in two years.
Degree Plans and Course Descriptions
Curriculum Design
Literature Courses
The curriculum balances a study of the art of writing with the study of literature through a variety of courses with diverse and extensive reading lists.
Creative Writing Workshops
Writing-intensive workshops in fiction, nonfiction, screenwriting and poetry are offered through the program. Students have multiple opportunities for revisions that will help them produce a thesis manuscript.
Courses of Professional Mechanics and Operations
Students have opportunities to takes courses in pedagogy, theory, scholarship, grant writing, literary editing and publication, translation and more.
Visiting Writer Program
OLLU welcomes well-known authors to campus to take part in the Visiting Writer Program. Under the program, an author visits OLLU for a semester to work with students and give a public reading.
Current Visiting Writer
Writer-in-Residence

Nan Cuba
Author and professor of English Nan Cuba serves as OLLU's official Writer-in-Residence, which means she lends her time, talent and energy to help students perfect their craft. Internationally acclaimed author Sandra Cisneros served as the previous Writer-in-Residence. Learn more about Professor Nan Cuba on her website.
English Department Highlights
The Thing Itself
The OLLU literary journal, "The Thing Itself ," is published annually by the English Department. Students, faculty, staff and members of the community can submit poetry, fiction, nonfiction and art for publication consideration in the journal.
Social Justice Reading Series
The series brings an author to campus each semester to read work related to a social justice issue.
International Study Tours
Some courses feature opportunities for students to study abroad. One such course is the British Literature course. Students who have taken the course in recent semesters have had the opportunity to travel to the United Kingdom with their classmates to visit some of the landmarks that they have read about through their coursework.
Storycon
This is a daylong celebration of storytelling with panel discussions, keynote speakers and other related events. OLLU students have the opportunity to meet with guest speakers and share their own work during an open mic event.