Retreats and Spirituality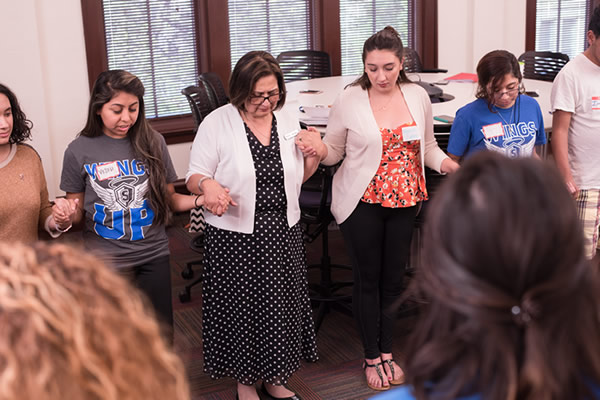 University Ministry has developed a set of pillars that it uses as a guide to carry out ministry efforts on campus. Those pillars are:
Quality
Outreach
Intentionality
Empowerment
Traditions
Inclusivity
It is with these pillars that University Ministry sets out to form faith communities. Hospitality and spiritual growth events are held regularly for the university community, which enhance the forming of the faith community.
Such events include:
Awakening Retreat
The Awakening Retreat program is sponsored by University Ministry for OLLU students. The retreat is held twice in the academic year - in November and April. After attending the retreat, students are eligible to serve as a member of the team sponsoring the next retreat weekend.
What Is Awakening?
The Awakening Retreat is a Christian faith retreat program open to anyone of any faith background interested in building a relationship with God. It is based loosely on the Cursillo and Search retreat models. This retreat is a weekend retreat for college students. The staff of the retreat consists of students currently enrolled at Our Lady of the Lake University. Students from other universities and colleges also assist on staff. The purpose of the Awakening Retreat is to provide an opportunity for students to discover and rediscover God in their lives through shared experiences.
It is a great way to meet life-long friends as well as re-awaken a sense of God's love for each and every one of us.
Faith Development
The success of the Awakening Retreat is dependent on the witness talks that are shared by students. There is a discovery of how God has worked in lives through the challenges of living a life like a Christian, unveiling the gifts of the Holy Spirit, and exploring ways to pray.
Community Building
The greatest joy about the Awakening retreat is the opportunity for community building. This can be understood in the words of a student who has attended the retreat. The Awakening Retreat will provide life-long friendships that enable students to know they have a community that prays and supports them throughout their time at OLLU and beyond. 

Discerning Life Choices Retreat
Hosted by the Sisters of Divine Providence, the Discerning Life Choices Retreat aids you in making decisions - big or small - as you continue on your path as a student.
Life Awareness Retreat

Hosted by the Archdiocese of San Antonio, Life Awareness Retreat provides retreatants an opportunity to explore the calling of religious life or priesthood.
Vocation Vacation

The Vocation Vacation Retreat aids discerners in their exploration of religious life or the priesthood.