Business Administration (MBA)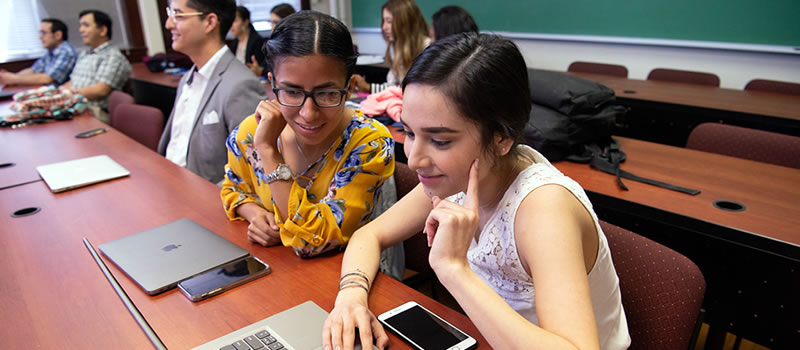 Get started on your Journey
The Master of Business Administration (MBA) is available with concentrations in Business Analytics, Financial Analysis, Health Care Management and Management. The program is designed to meet the needs of practicing executives in for-profit and nonprofit settings and focuses on sharpening skills in decision-making and problem-solving behavior for professional administrators.
Program Design
The MBA is a 36-credit hour program. Classes meet every other weekend, eight times per term. The weekend format enables successful managers to continue to grow professionally without interruption in their careers, thus enhancing their competitive positioning in an increasingly sophisticated economic environment. The program's instructional design integrates scientific and technological advances with proven principles of management.
Concentration Degree Plans and Course Descriptions
Dual Degree Programs
MBA/MSOL
Students in the MBA program can add a Master of Science degree in Organizational Leadership by taking six additional classes (18 credit hours). This dual degree gives business leaders the added skills and knowledge of the theories and practices of ethical leadership. Students must be accepted into both programs individually.
View MBA/MS in Organizational Leadership degree plan and course descriptions.
MSW/MBA
This Advanced Standing program is designed for those students who have a Bachelor of Social Work degree from a CSWE-accredited program. The dual nature of this program allows you to complete both a business and social work core, giving you the advanced knowledge required to transition to leadership roles.
View MSW/MBA - Online program
Graduate Certificates
Five graduate certificates are available for non-degree seeking students. To obtain the certificates, students must meet the following criteria:
Admission to the graduate certificate program (requirements are the same as admission to the MBA program).
Complete 15 hours in appropriate areas (all courses must be completed at OLLU; no course will be allowed to be transferred in for the certificate program).
Complete all prerequisite course work and all preparatory courses in basic business fields
The following graduate certificates are available:
Leveling Courses
Students who do not have sufficient background knowledge in business are required to take certain leveling courses. These leveling courses will allow students to integrate into the program earlier and will help improve their learning experience. Students can take these leveling courses before, or once they have started, the MBA program. Leveling courses are prerequisites for specific MBA courses, and students do not need to complete them all to start the program.
Accreditation
This business program is accredited by the Accreditation Council for Business Schools and Programs (ACBSP). ACBSP is a leading specialized accreditation association for business education, supporting, celebrating and rewarding excellence on a diverse global scale.
Weekend Degree Program
The weekend degree concept was pioneered at OLLU more than 40 years ago. It was designed for busy professionals who wanted to earn a degree without putting their career on hold. The format allows students to balance work, family and school.
Instructional contact hours in the weekend degree program are fewer than more traditional programs, so that much of the work is faculty-directed outside of the classroom. Some courses require additional networking and professional development outside of class hours. The weekend program requires a commitment to an extensive educational experience as well as a considerable degree of independence and discipline.
Faculty
Many of the full-time faculty members in the School of Business and Leadership have doctoral degrees and/or professional designations. Seasoned practitioners who teach specialized courses complement the full-time professors to provide students with a well-rounded experience. View School of Business Faculty.
Admission Requirements
Readmission
Any student whose program is interrupted by an absence of one year or more will incur the obligation of meeting changed requirements as printed in the current graduate catalog.
Application and nonrefundable application fee.
Official transcripts from all regionally accredited colleges and universities attended since last attending OLLU.
A letter of intent that describes the reasons for stopping out and what has changed in order to continue in the program.
Student was placed on Enforced Scholastic Withdrawal:
A letter of intent to include:

Explanation of previous academic performance
Plans for improving academic performance and corrective actions
Any other documentation which will support request for readmission