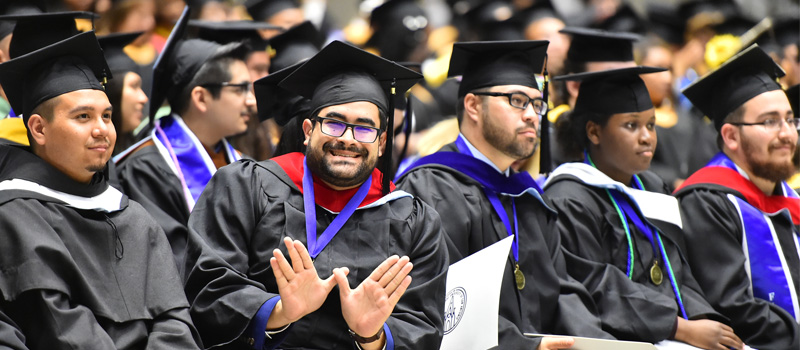 Graduation Information
---
2023 Fall Commencement
Thursday, Dec. 14, 2023
5 p.m.
Regalia (cap and gown), OLLU Class Ring, and Graduation Announcements
OLLU offers customized and branded regalia through a partnership with Jostens, Inc. Jostens also is the only provider for official university stoles, rings, announcements, and other graduation items and packages. Students can purchase regalia and other items through the Jostens, Inc. website (see specific links for each campus below) or order during Graduation Fairs on each campus (see dates below).
Regalia Order Deadlines
November 7: Before 11 p.m., Last day to order regalia and receive at home the day before graduation.
November 16: Student Pre-Ordered Esolutons Gowns Arrive on campus before holiday break.
Regalia Fees
Undergraduate Regalia - $64.75 (plus tax and fees)
Master's Regalia - $84.45 (plus tax and fees)
Doctoral Regalia - $122.00 (plus tax and fees)
Important Note: Students participating in commencement events must wear the official OLLU regalia provided by Jostens, Inc. For questions about ordering/purchasing your regalia and other graduation packages, contact Jostens, Inc. directly by phone: 800-854-7464 or use the links listed below.
Ring Sale Days
August 23 – 24 , 11 a.m. – 6 p.m., Renaissance Parlor
September 20 –21, 11 a.m. – 6 p.m., Renaissance Parlor
Ring Ceremony (Two-Day Event)
NOTE: This event takes place once a year during the fall semester.
November 9, 7 p.m., Ring the Bell Event, Providence Front Walk to Chapel
November 10, 7 p.m., Rings Up Ceremony, Thiry Auditorium
Ring Order Deadline - Sept. 23, 2023
In order to receive your ring by the event, you must order your ring by the deadline date.
RSVP HERE
This is a two-day event that is open to all students that are in Junior or Senior status as well as alumni that have previously purchased a ring from the Fall of 2022 forward. At the "Ring the Bell" event the rings will be carried in to spend the night in the Bell Tower and will then be brought directly to the Rings Up Ceremony the following day.
Graduation Fairs
Graduation Fairs, to be held on each campus, will give graduates the opportunity to try on regalia before ordering, check ring sizes, and places orders for all graduation items. Students who will be graduating at the end of the term are encouraged to attend.
Please save the date for the following events at your campus location:
For San Antonio campus and online students:
October 18 – Noon- 6 p.m. – Renaissance Parlor
October 19 – Noon- 6 p.m. – Renaissance Parlor
San Antonio campus and online students
---
For Rio Grande Valley (La Feria) campus students:
October 21 – 11 a.m.-4 p.m. – MPR Classroom
Rio Grande Valley campus students
---
For Houston campus students:
October 14 – 11 a.m.-2 p.m. – Commons Area
Houston campus students
Thursday, Dec. 14, 2023
For on campus events, guests can park in Lot K (View Campus Map)
Time
Event
9 a.m.

Veterans Graduation Ceremony
Location: Chapel Auditorium
Regalia not required.

10 a.m.

Ring Blessing Ceremony
Location: OLLU Sacred Heart Chapel
Regalia not required.

Students may bring class rings or any other significant items such as jewelry that they wish to have blessed at this prayer service. Graduates should arrive by 9:50 a.m.

10:30 a.m.

Alumni and Family Meet and Greet for students and their guests
Location: Mall Area
Regalia not required.

Enjoy pastries and refreshments with faculty, and staff from the Alumni and Family Relations Office (immediately following the Ring Blessing). Parking Permits for commencement will be available for purchase at this time (cash only).

OLLU dining services will be open for those who would like to enjoy lunch with their graduates.

11:30 a.m.

Graduation Liturgy Line-up
Students will line up in Chapel Auditorium located below Sacred Heart Chapel.
Regalia required.

Noon

Graduation Liturgy
Location: OLLU Sacred Heart Chapel
Regalia required. Caps and gowns will be worn for the liturgy, with bachelor's and master's degree candidates carrying their hoods over their arms. Doctoral candidates will receive their hoods on stage at commencement.

It is recommended that guests arrive early since seating is limited. Students whose guests require special seating due to a disability, and those graduating students who wish to participate as readers/lectors, altar servers, or trained Eucharistic Ministers should contact University Ministry at 210-431-3973 or by email: ministry@ollusa.edu. Special seating requests made to University Ministry are only for Sacred Heart Chapel.

5 p.m.

Commencement Exercise
Location: Joe and Harry Freeman Coliseum (off campus)
3201 East Houston St. San Antonio, Texas 78219
Regalia required

PLEASE NOTE: The ceremonies will be live streamed. The link will be available on this page on the day of commencement.

Freeman Coliseum Parking Information

General Public Parking will be $10 at the gate. Discounted pre-sale parking permits for West Gate Entrance - Lot 9 - will be available for purchase on campus in the Student Business Office in the Walter Student Center for $3.50 each. Pre-sale parking permits are limited to one ticket per graduate and will be available for purchase starting one month prior to the event and will continue until 4 p.m. on commencement day (or until pre-sale permits run out). The Freeman Coliseum abides by all ADA requirements and has handicap parking available. All parking is first-come, first-served. Any additional parking questions regarding the Freeman Coliseum should be directed to Gustavo Villa, Office of Event Services. Please email ollugraduationinfo@ollusa.edu.

Guests

Doors to the Freeman Coliseum open at 3 p.m. on commencement day. All family, friends, and guests are required to use the main front entrance of the Freeman Coliseum and will not be allowed through the rear ramp entrance. Guest are encouraged to arrive at the Freeman Coliseum by 4:30 p.m.

All guest seating is on a first-come, first-served basis, unless otherwise indicated or marked by OLLU and Freeman Coliseum Staff. Guests with disabilities or who require special accommodations due to but not limited to wheelchairs, walkers and crutches can request assistance from ushers upon entering the Freeman Coliseum. Accommodations are located in sections 105, 107, 125, and 127. (Please Note: OLLU and the Freeman Coliseum do not provide wheelchairs.) Seating during the procession or commencement address will not be allowed. If you have any other questions or concerns regarding seating or assistance, please contact Liz Longoria, Director of Campus and Community Engagement, at 210-431-4026.