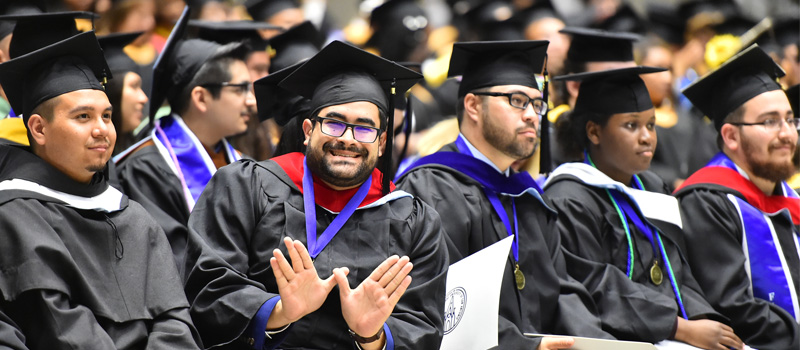 Graduation Information
---
Fall 2020 Graduation Plans
Friday, Dec. 11, 2020
Veterans Graduation Ceremony

9-10 a.m.
Online via Webex
All graduating members who are veterans or members of the Armed Forces who would like to be recognized and receive a recognition coin are asked to submit the following items to studentaffairs@ollusa.edu by end of business day on Friday, Dec. 4, 2020.
Name with Rank/Title
Military Branch
A formal photo in professional attire
Mailing Address for Coin (if different from what is on file)
Baccalaureate Liturgy and Ring Blessing

11 a.m.-Noon
Online via Mission and Ministry Facebook
During this livestreamed liturgy, all graduates will receive a blessing and there will be a virtual blessing of rings and other items.

Saturday, Dec. 12, 2020
Hybrid Commencement Ceremony
3 p.m. -- Virtual Commencement Address Ceremony livestreamed from Sacred Heart Chapel
Link will be provided on day of event

3:30 p.m.-6:30 p.m. -- Diploma Pick-Up and Degree Conferral Procession
See procession details on linked map
Details
Virtual Commencement Address Ceremony will be live streamed to allow students to view the official Commencement addresses from their preferred devices in their vehicles.
After commencement addresses, graduates will be able to proceed through the Main Building Plaza, in their vehicles, to receive their diploma, have their picture taken with President Diane E. Melby and have their degree conferred in front of the Main Building. Graduates will exit their vehicles to take a graduation portrait, a portrait with President Melby and have their degree conferred. Guests will remain in the vehicle but will be able to view the graduate having their degree conferred as the vehicle will be allowed to drive in front of the commencement stage.

Line-up will begin at West Gate entrance off Commerce Street starting at 2 p.m.
PhD, PsyD and MFA graduates are asked to arrive by 2:30 p.m., as they will process first to be hooded. (Doctoral/MFA graduates who arrive after master's and bachelor's graduates have begun to process will be required to wait in line.)
Bachelor's and master's graduates will begin to process once doctoral/MFA students have been hooded.
All graduates are asked to arrive by no later than 5:30 p.m.
All spring, summer and fall 2020 graduates are eligible to participate.
Procession guidelines:
All graduates and guests will be required to check in and complete a COVID questionnaire upon arrival to campus and prior to participating in procession.
All employees, visitors and students coming to OLLU campuses will wear a face covering over their nose and mouth while on campus.
Each graduate will be allowed one vehicle for the diploma pick-up procession.
Each graduate should provide their own vehicle. We do not have rental cars.
Graduate should be seated in the front passenger seat and should not be driving the vehicle.
Guests must remain in the vehicle while driving on the Main Plaza.
Graduate may only exit the vehicle when instructed to do so and must return to their vehicle when instructed to do so. (Graduates will be asked to exit the vehicle to take their official graduation picture, receive their diploma, have their degree conferred and receive their alumni gift).
The following vehicles are not allowed for use in the procession: Eighteen-wheelers, Trailers, Travel Trailers, Charter Buses, RV's, Party Buses and Bicycle bars are not allowed.

Please note limousines are allowed. Elegant Limousine in San Antonio offers OLLU special rates. Please contact them at 210-225-5466 or at www.elegantride.us

For guest safety, all tailgates, van/car doors, and hatchbacks must always remain closed.
All guests must adhere to TXDOT regulations and each passenger must have their own seatbelt while processing through the Main Plaza.
Alcohol is not permitted while in procession.
Additional Information:
Vehicle decorating is encouraged.
Texas Recognition will be available on campus on Saturday, Dec. 12, 2020 for late regalia pick up and exchanges, and late ring pickups.
Let Us Know Your Plans
If you have not completed the Commencement Participation Survey but wish to participate in the ceremonies, you must complete the survey at this link by end of day on Nov. 20, 2020.
If you RSVPd and are no longer able to participate in the commencement ceremony, please notify Student Affairs at studentaffairs@ollusa.edu by end of business day on Monday, Dec. 7, 2020. Please note that fall candidates who no longer wish to participate will have their diplomas mailed to the address provided in their graduation participation survey. Any changes to mailing address previously provided should also be sent to the Student Affairs Office.