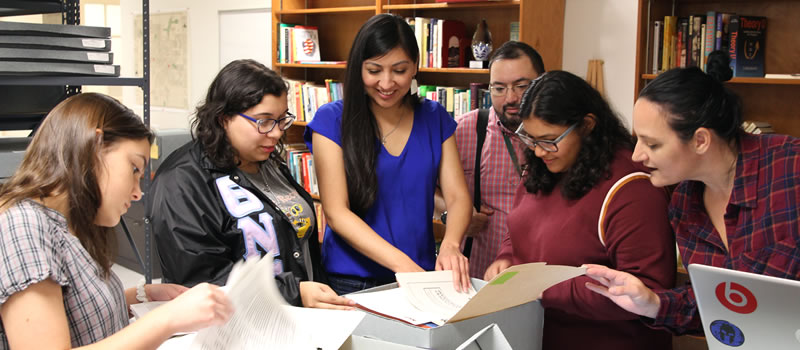 Get started on your Journey
Our Lady of the Lake University offers a Bachelor of Arts degree in History with a concentration in Integrated Digital and Public History that incorporates course content with new information technology tools to show students how to prepare content for diverse audiences. The program provides students with a broad view of the human experience as it hones their critical analysis, writing and oral communication skills.
Making History Relevant
Studying history at OLLU is more than just memorizing the dates of past events. The program's focus on digital and public history brings history outside of the classroom and reframes it in ways that make it relevant for today while using technology to put historical information in and placing it in an accessible format that is credible.
Programs Offered
Click on the links below to view the degree plans and course descriptions for the programs offered through the History Program.
Hands-on Courses
Through the completion of a three-course sequence, students have varied opportunities to put the skills of a practicing historian to use. First, students engage in a capstone course that provides experience with in-depth research, writing and methodology. They utilize those skills in the second course where they work with history faculty members to prepare an in-depth essay. During the last course of the sequence, students complete an off-campus internship where they can apply the knowledge and skills learned through their coursework. Students have completed internships at museums, institutes and other organizations throughout the city.
Utilize Campus and Community Resources
The integration of digital and public history allows all students, including those who take general education history courses, to utilize the resources on campus such as the University Archives, the Sister Elizabeth Ann Sueltenfuss Library Special Collections, the Congregation of Divine Providence Archives and the Center for Mexican American Studies and Research Collections for research projects.
Careers in History
A history degree equips graduates for advanced study in history, political science, English, business, law and more. History graduates use their skills in gathering, analyzing and interpreting evidence in archives, museums, historical societies, government agencies and nonprofit organizations. Read more about careers for history majors on the American Historical Association website.