About the Salazar-Escobedo School
---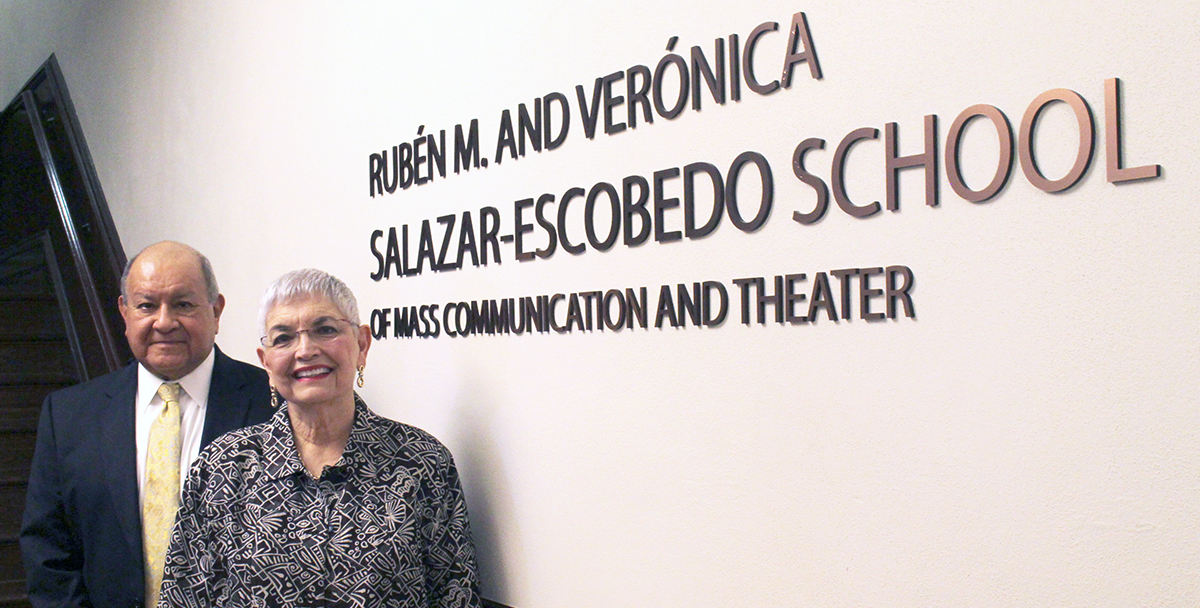 With a $2.1 million gift, the largest donation from an individual in school history, OLLU launched the Rubén M. and Verónica Salazar-Escobedo School of Mass Communication and Theater in 2020.
"We want our graduates to become the best journalists, the best broadcasters, the best mass media in the country," said Verónica Salazar-Escobedo (BA Spanish '65). "We want them to become evangelists for Our Lady of the Lake University, to inspire other students to look at us."
Located on the second floor of Main Building, the school features the Verónica Salazar Media Center, a state-of-the-art, multimedia production facility that opened in 2016 with funds from the first phase of the $2.1 million gift. The school also houses the LakeFront Newspaper newsroom, a classroom and cutting-edge equipment found at major media outlets across the U.S.
The new school came about through a Providential meeting. In 2015, then OLLU president Jane Ann Slater, PhD, CDP, told the Escobedos about talented Mass Communication majors, Lone Star Emmy Award-winning journalists who were working with older equipment. After meeting with several students, the Escobedos decided to fund major improvements to the Mass Communication program.
"I thought, 'If they are already Emmy winners with outdated equipment," Salazar-Escobedo said, "can you imagine what they can accomplish with state-of-the-art equipment?'"
One student she met, Angelica Casas ('15), won two Lone Star Emmys for work she produced for LakeFront TV. A second student, Jessica Ortiz ('17), won a Lone Star Emmy in 2018 as an assistant producer for Univision 41. A third student, Chan'Cellore Makanjoula ('18), produced a documentary film, "Mr. Zoot Suit," that was screened at film festivals across the U.S. and won multiple awards. "Mr. Zoot Suit" originated as a class project at OLLU.
"I saw myself in the students when I visited them," Salazar-Escobedo said. "I was like them at their age. The students inspired me and Rubén."
A native of Rio Grande City, Salazar-Escobedo arrived at Our Lady of the College in 1961, aspiring to become a translator for the United Nations. After graduating, however, she worked as an interpreter for the Greater San Antonio Chamber of Commerce before embarking on a 35-year career with the San Antonio Express-News. Salazar-Escobedo rose from secretary to weekly columnist to Vice President of Community Relations.
A former OLLU trustee, she and Rubén have led fundraising campaigns for charitable organizations and donated generously to nonprofits. They have received numerous awards for their service and civic leadership.
The Escobedos' donation will build upon a tradition of excellence. OLLU alumni have reported for national networks. They have covered political conventions, natural disasters and international conflicts. They have won 37 regional Emmys, one national Emmy and a Peabody award.
"There is no limit," Salazar-Escobedo said, "where our graduates can go."