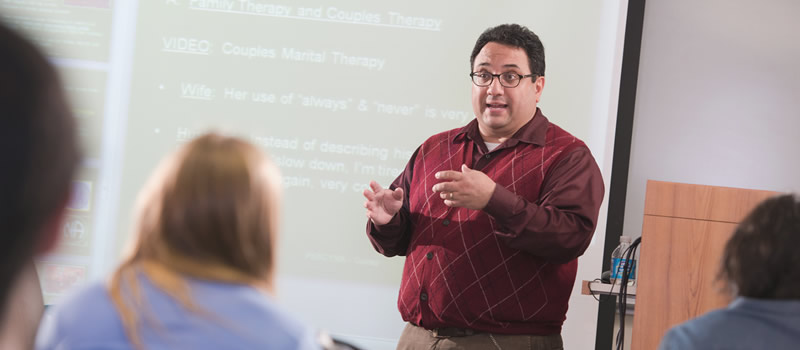 Get started on your Journey
The Our Lady of the Lake University Psychology Department offers a Bachelor of Arts in Psychology program that prepares students to apply psychological theory and science in a broad range of settings and to pursue graduate studies. Students complete core courses that represent the field of psychology and have the option of selecting either a flexible degree plan that allows for 15 hours of elective courses in psychology or a concentration in pre-counseling.
A bachelor's degree in psychology opens the doors to many entry-level careers within social services. Possible career options include case manager, rehabilitation specialist, psychiatric technician, career counselor and many more. It also is the pathway to graduate study. OLLU offers master's degree programs in Marriage and Family Therapy and School Psychology, as well as a Psychology Doctorate in Counseling Psychology.
Students who wish to pursue graduate studies are encouraged to apply for OLLU's Accelerated Bachelor's to Master's (ABM) Program. The ABM program allows undergraduate students to begin completing requirements for a master's degree during their senior year which saves time and money.
Undergraduate Psychology and Certificates
While each of the paths available prepare students for entry-level positions, becoming licensed to practice psychology requires that students continue on to pursue a master's or doctoral degree. A student's ultimate career goals will help them determine which path to pursue. Choosing a certificate option provides an additional opportunity for students to enhance their knowledge and skills in dealing with diverse clients in their careers.
Community Counseling Service
The Community Counseling Service (CCS) is a university-operated center that offers individual, couple/marital, or family counseling or psychological testing to area residents. Although undergraduate students are not able to work directly with clients, they do observe live counseling sessions that are conducted by master's and doctoral psychology students. During the sessions, undergraduate students engage in discussions with faculty members to gain better insight into the techniques and practices being utilized.
Hands-On Experience
Psychology Practicum
Psychology students can complete a practicum at the Community Counseling Service, or other family service organizations, where they can apply basic counseling skills while working with individuals, groups and families. Students are supervised by professional counselors during their practicum and get to reflect on their work at the conclusion of their experience.
Research Practicum
Students also have the option to complete a research practicum. As part of this course, students apply the methods used to conduct psychological research to work with classmates, their professors or psychologists from other organizations on research projects. Work on the project may include research design, literature reviews, data collection and statistical analysis.
Psychology Honor Society
Undergraduate students also have the opportunity to join Psi Chi, the national honor society for psychology majors and minors. Psi Chi strives to produce well-educated, ethical and socially responsible members committed to contributing to the science and profession of psychology and to society in general.