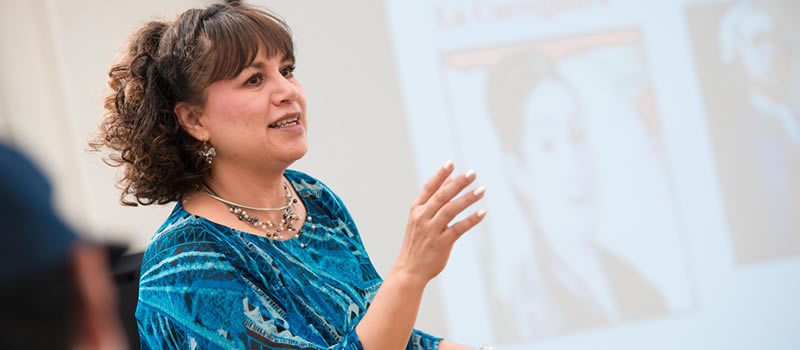 Get started on your Journey
The Our Lady of the Lake University Spanish program specializes in Hispanic culture and attracts many bilingual students. The program has been designed to respond to the needs of our nation's growing Hispanic/Latino population and prepare students to function professionally in English and Spanish.
A teacher certification option also is available for students who wish to become Spanish teachers.
Programs Offered
Biliterate Certificate Program
Spanish-speaking students can earn a degree with dual-language (English/Spanish) emphasis through the Biliterate Certificate Program. Students take specialized Spanish classes and fulfill a portion of their major requirements by completing a practicum or learning experience in a Spanish-speaking setting. Following completion of the program requirements, students earn a certificate that shows they have the valuable and marketable skills to speak, read and write professionally in English and Spanish.
The Biliterate Certificate is available with all undergraduate majors.
Summative Experience
All students majoring in Spanish are required to complete a summative experience capstone course that requires students to integrate skills and knowledge previously learned in advanced Spanish courses. Guided by a Spanish faculty member, students will complete an individualized project on an independent study basis. Projects may involve research, reading, a report or creative writing. In addition, the second component of the Summative Experience requires that students take the American Council on the Teaching of Foreign Languages (ACTFL) and the Language Testing International's Oral Proficiency Interview (OPI) and Written Proficiency Test (WPT).
After OLLU
Students who graduate with a bachelor's degree in Spanish go on to earn master's and doctoral degrees in the language or work in business, government, international commerce, social service agencies, communication and a variety of companies and organizations that service our nation's Spanish-speaking clientele. View information on careers in Spanish from the Bureau of Labor Statistics .
Spanish Honor Society
Students who major in Spanish or pursuing the Biliterate Certificate have the opportunity to join Sigma Delta Pi. It is the largest foreign language society in existence and the only honor society devoted to students of Spanish in four-year colleges and universities. Students must meet criteria academic requirements to join the society.