Master of Education - MEd Degree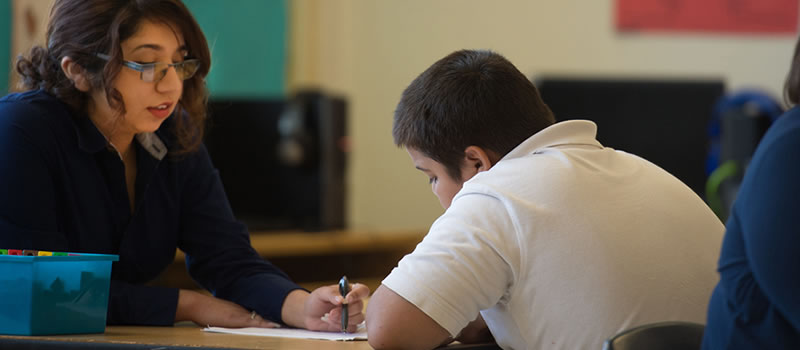 Get started on your Journey
The Master of Education (MEd) degree with a Curriculum and Instruction specialization at Our Lady of the Lake University (OLLU) prepares teachers to hone their craft and content expertise as well as be an instructional leader at their schools.

The program prepares professional educators to:
Understand and meet the needs of a diverse student population

Function in a global society

Be life-long learners

Gain the skills and vision needed to be leaders in today's schools

Master of Education Program Overview
In the Master of Education (MEd) Curriculum and Instruction degree program students complete required curriculum and instruction foundation courses as well as courses tailored for the concentration. Concentrations available through the program are in high-need areas sought by school districts. Available concentrations are:
Program Benefits



Global perspective and prep for diverse populations

Preparing teachers
for more
than 112 years

Tuition discount
for K-12
school employees
Why Get a Master of Education Degree?
A Master of Education degree can be a valuable pursuit for educators and professionals in education. Our Lady of the Lake University's MEd program offers several compelling reasons to consider it a worthwhile endeavor.
We offer:
Preparation for Diverse Student Populations
In today's increasingly diverse educational landscape, educators must be well-equipped to meet the needs of students from various backgrounds. Our MEd program can provide you with the necessary knowledge and skills to effectively teach and engage a diverse student population.
Global Perspective
Our world is becoming more interconnected, and educators need to understand how global issues and perspectives impact education. Pursuing an MEd can help you gain a global perspective, enabling you to better prepare your students for the challenges and opportunities of an interconnected world.
Lifelong Learning
Education is an evolving field, and continuous learning is essential for educators to stay current and effective in their roles. This MEd program fosters a commitment to lifelong learning, helping you stay up-to-date with the latest educational research and practices.
What Will You Learn in Our MEd Degree?
The curriculum of MEd degrees varies depending on the institution and specialization. The MEd Curriculum and Instruction program at Our Lady of the Lake University is designed to provide students with a comprehensive and professional education in the field of education. This program offers a range of specialized concentrations to cater to the diverse needs of educators and aspiring education leaders. These concentrations include:
Diverse Populations
Reading and Literacy
Dual Language and Special Populations
Integrated Science Teaching
Concentrations offered by our university include a solid foundation of core courses essential for all MEd students. Foundation courses are designed to provide a solid theoretical and practical foundation for educators and are as follows:
Trends and Issues in Multicultural Education in Diverse Societies
Research Methods and Foundation
Teacher as Leader, Reflective Practitioner, and Advocate
Curriculum and Instruction: Philosophy, Analysis and Implementation
Assessment Principles and Implementation
Diversity and Special Education
In addition to the foundational courses, each concentration within the MEd program features a set of specialized concentration courses meticulously crafted to provide students with the knowledge and skills necessary for success in their chosen educational careers. These courses are thoughtfully designed to offer a deep dive into the specific subject matter, pedagogical techniques, and best practices relevant to each concentration area.
Is a Master of Education Degree Worth It?
A Master of Education degree, such as the one offered by Our Lady of the Lake University, can be a valuable investment that not only enhances your career prospects but also equips you with the skills and knowledge to make a meaningful impact in the field of education.
It's worth noting that completing a Master of Education degree can lead to higher earning potential. Many school districts offer higher salaries or salary increases to educators who hold a master's degree. The Master of Education degree offered to our students leads them to a salary of $127,310 or more, making it a significant motivation for pursuing the degree.
Courses in the Master of Education (MEd) Program
Each of the concentrations in the Master of Education at OLLU includes foundation courses from the Curriculum and Instruction specialization and specific courses for the concentration. The following are the foundation courses:
EDUC 6304 | 3 CREDIT HOURS
Investigation of the similarities and differences between a variety of cultures (to include topics of nationality, race, ethnicity, language, religion, sexual orientation, socioeconomic status, stereotypes, abilities, family dynamics, etc.) and the effects culture has on student learning, motivation, and achievement. Examination of personal perspectives, biases, and views as well as discussion and recognition of mainstream, political, ethical, legal, and economic issues and ideas regarding diversity and equity in regards to students, parents, communities and the United States educational system.
EDUC 6311 | 3 CREDIT HOURS
Study of basic statistics, analysis and application of various research designs and methodologies, use of library resources, and evaluation of current literature; completion of a research proposal required.
EDUC 6346 | 3 CREDIT HOURS
Emphasis of different theoretical models of instruction and assessment and their application in culturally diverse classrooms with a focus on vertical alignment of the curriculum and integration of technology. Emphasis on formative and summative criterion-referenced assessments including a blue print for assessment with rubrics, portfolios, test modifications, and understanding reliability and validity on norm-referenced tests for diverse learners. Collaborative, problem solving and critical thinking process to examine student learning; address real-world learning outcomes and educational goals in today's classroom for all students (e.g. Lesson Study Approach).
EDUC 6359 | 3 CREDIT HOURS
Overview of current trends and issues that influence and impact school learning and student motivation for all students, especially those who have been historically and politically marginalized. A portfolio of leadership and reflective activities will demonstrate personal and professional growth in a variety of teacher leadership skills that may include collaboration, effective two-way communication, building trust, skills and confidence in others, mentoring relationships, building parent and community relationships and utilizing community resources, and being empowered to make crucial decisions about students engagement, curriculum, discipline for sustainable school improvement and reform.
EDUC 6371 - 3 CREDIT HOURS
Theory and practice, pedagogical approaches and construction of knowledge. Theoretical philosophies and current issues and trends in education and curriculum design for culturally responsive practice, including a personal analysis of teaching and learning philosophies. Understanding of curricular design and analysis of standardized assessment data; application of curricular change processes and roles and responsibilities in curriculum for diverse populations.
SPED 6305 | 3 credit hours
Contemporary issues in diversity - including learning, cognitive and behavioral differences, under and over representation of diverse students. Review of historical trends, definitional issues, social and political frameworks, and legal and legislative history. Intersections and complexities of race, ethnicity, language, culture, family, socioeconomic status and disability. Critical conversations about ethical issues in programming, assessments, and the current achievement gap among students.
Admission Requirements
Completed OLLU application (no application fee)

An earned baccalaureate degree from a regionally accredited institution

Minimum GPA of 2.75 (on a 4.0 scale) on undergraduate work and a 3.0 for the last 60 hours

Official transcripts from all regionally accredited colleges and universities where degrees were conferred

A personal statement

Two recommendations academic or personal sources (request through application)

Resume

FERPA Consent to Release Education Records and Information Form-Written consent release of test records to certification officer and program faculty
Teacher Service Record

Any other materials requested though application (based on concentration)

Interview arranged by the department (if necessary)

All applicants who did not complete an undergraduate or graduate degree at an accredited institution of higher education in the United States that are reflective of the language skills that teachers need: are required to provide minimum scaled scores on the Test of English as a Foreign Language internet-based (TOEFL iBT) of 24 for speaking, 22 for listening, 22 for reading and 21 for writing (TAC 230.11).

$10 fee for a criminal background check and $35 TEA technology fee will be required once admitted; if applicant feels there is something in their background that may hinder a placement/certification, it is recommended that a background check be completed prior to admission
Faculty
Full-time faculty members in the Education Department have extensive professional and academic experience. Professors have doctoral degrees and additional certifications and credentials. They bring years of experience as educators and school administrators. View Education Faculty
Professor and Coordinator of Bilingual and ESL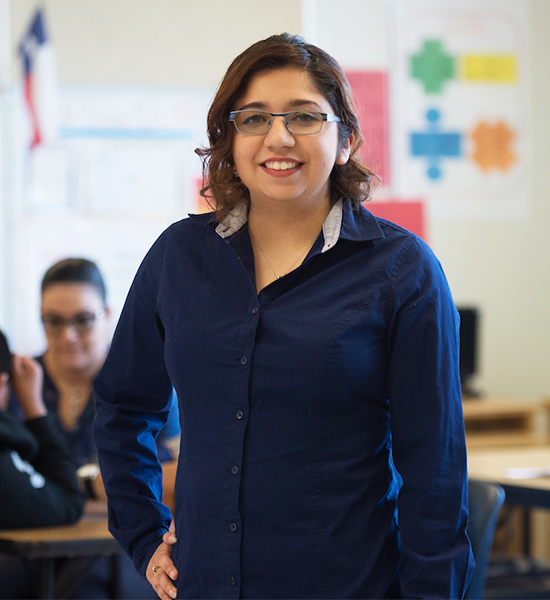 What Can You Do With a Master of Education (MEd)?
he Master of Education program offered at Our Lady of the Lake University provides students with a robust foundation and specialized concentrations, empowering them to pursue their dreams in various education-related careers.
Here are some of the career paths and roles that our students with an MEd can follow:
Classroom Teacher




Curriculum Developer




School Administrator




Education Consultant




Education Researcher

College or University Professor




Guidance Counselor

Special Education Coordinator
Adult Education Instructor




Educational Technology Specialist




Nonprofit or Education Advocacy Roles




Private Tutor or Education Coach




Education Entrepreneur
Tuition & Financial Aid
The Master of Education degree with a specialization in Curriculum and Instruction will help propel you to important positions of leadership in your school or district. It is an investment in your career and in your efforts to bring new vision to the education system.
| Tuition | Costs |
| --- | --- |
| Our Tuition (2023–2024 rate) | $3,220 per course |
| Average Tuition of Peer Online Institutions | $4,330 per course |
| Average Total Cost | $38,640 |
You should begin the Financial Aid application process at the same time that you apply to the graduate program. To be considered for financial aid, you must complete the Free Application for Federal Student Aid (FAFSA) at www.studentaid.gov . Please list Our Lady of the Lake University, federal school code #003598, as one of the schools to receive your application information. OLLU will receive your results electronically and use them to award your financial aid.
Please note: You must be officially accepted for admission to the university before a financial aid award can be processed.
FAQs
A Master's in Education degree is a graduate-level program focusing on advanced study and specialized education training. It is designed for educators and professionals who want to deepen their knowledge, skills, and understanding of educational theory, practice, and leadership.
Earning an M.Ed. degree can offer several career benefits, such as:
Career advancement in education.
Higher earning potential.
Specialized education expertise.
Eligibility for administrative roles.
Improved contribution to education policy.
To confirm if pursuing a master's in education suits you, reflect on your passion for education and align it with your career goals. Research various program options, seek advice from educators, assess practicality and financial factors, and consider the long-term impact on your career and personal life. Ultimately, the decision should align with your aspirations and circumstances, ensuring it's a meaningful step toward achieving your career and educational objectives.