Visual and New Media Arts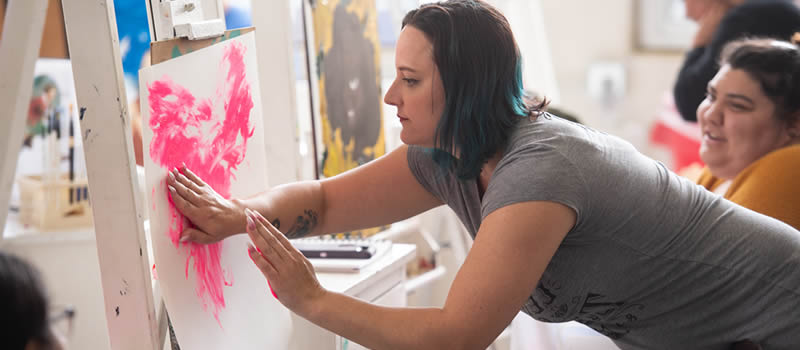 Get started on your Journey
The Visual Arts program at Our Lady of the Lake University offers a Bachelor of Arts degree in Visual and New Media Arts that offers a wide range of courses to cultivate students' creativity as well as the technological skills required of a new media arts focus. Students in the program are able to explore their passion, whether it is ceramics, printmaking, digital imaging, animation or even teaching. The degree allows students to tailor their degree to create a visual arts focus, a new media arts focus or a combination of both.
Programs Offered
In addition to the general bachelor's degree, an all-level teacher certification is available for students who wish to teach art in grades K-12. The program focuses on visual and new media arts, art history and art education with a special focus on contemporary art and diverse cultures.
The visual arts minor provides students with a basic foundation of art and art history with a concentration in the medium of their choice.
Spanish-speaking students can earn a Visual and New Media Arts degree with dual-language (English/Spanish) emphasis through the Biliterate Certificate Program. Students take specialized Spanish classes and fulfill a portion of their major requirements by completing a practicum or learning experience related to their major in a Spanish-speaking setting. Earning the certificate certifies that a student is proficient in both English and Spanish.
Degree Plans and Course Descriptions
Hands-On Experiences
During their senior year, students will complete a two-course exhibition capstone. During the first course, students will produce a professional art portfolio, artwork documentation, paper and presentation addressing contemporary art-making practices regarding their work for the senior exhibition. During the second course, students will implement, coordinate, present and complete the documentation they planned during the first course. Additionally, they will complete a practicum in which they identify a project within an organization or institution that requires the work of an artist.
Students also have a chance to create exhibitions to be displayed on campus.
Bringing Art to the Community
Students studying art at OLLU have various chances to take their work out into the local community. Through on-campus events and collaborations with local nonprofit organizations, students are able to work with people of all ages and share their passion for different types of art in the process.
Get into the Business of Art
The Visual Arts program incorporates collateral requirements that are centered in artistic entrepreneurship.While the typical stereotype of art majors leads to the term "starving artist," the addition of the collateral requirements at OLLU teaches students the skills needed to make money as an artist. Students will take courses in grant writing, personal finance, marketing, management and sales and promotion that will teach them how to manage art and cultural organizations.
Art Student Organization
Art, Ink., the art student organization, and the Visual Arts program have developed a positive working relationship with some of San Antonio's most active arts organizations. These ties provide students with opportunities to exhibit art both on and off campus, as well as the hands-on experience of providing visual arts related services. The organization is open to OLLU students of all majors.