Theology and Spiritual Action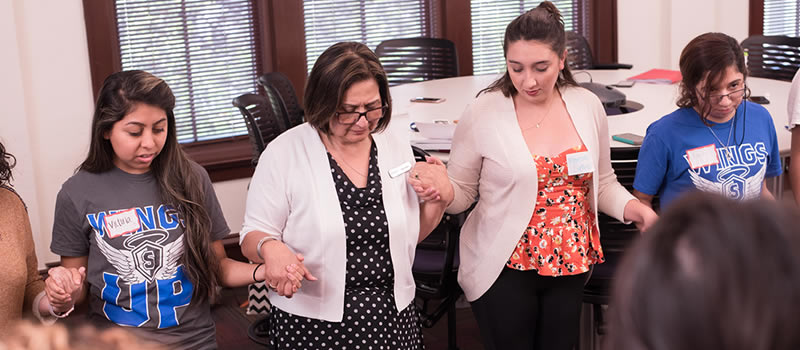 Get started on your Journey
Building on the foundation of the Catholic tradition, the Bachelor of Arts degree in Theology and Spiritual Action provides students with a comprehensive academic study of religion and theology. Studying theology offers students a unique opportunity to draw from human experience and ask fundamental questions about life and meaning. In addition to the rich Christian tradition, theological reflection at OLLU draws from a variety of academic sources including psychology, history, sociology, anthropology, economics and more.
OLLU shares the campus with its founding order, which provides for a naturally religious community where students gain greater insight into the religion and values of the Catholic Church, women's spirituality, and Latino's religious expression and spirituality. Additionally, students can volunteer in the community through the Providence Leadership Program. The program allows students to explore ministry as a life path through mentoring and other service-learning experiences.
Programs Offered
Interfaith Exploration
Through various interreligious dialogues and events, students gain opportunities to meet with people from other faith traditions. Through on-campus programming sponsored by the theology and spiritual action program and by visiting mosques, temples and other houses of worship, students are able to experience their services and traditions. They are also able to learn their basic principles, their views on justice and how they respond to issues in the community.
Service-Learning Opportunities
The addition of service-learning courses allows students to bring theology out of academics and take it into the real world. In the "Catholic Imagination" course, students study Christian individuals and institutions engaging challenges throughout the growth of Catholicism. As part of the course, students have taken that knowledge to work in education institutions, homeless shelters, correctional facilities and food banks, among other organizations.
Catholic Reality Capstone
During their senior, students take "The Catholic Reality," a capstone course in which students develop a project to demonstrate their ability to conduct critical theological reflection. Students have worked within their current parish or in other organizations throughout the city.
Grad School Preparation
In most professional fields, critical thinking, cross-cultural understanding and collaborative experience are skills in high demand. The theology and spiritual action program develops these skills through rigorous courses that incorporate critical reflection on contemporary experiences and issues, as well as the use of service-learning projects. As a result, the skills students develop lead them to consistently score high on the Graduate Record Examination (GRE) and on the Law School Admission Test (LSAT). This is essential for students who wish to pursue graduate studies.
Honor Society
Religious Studies and Theology students have the opportunity to become members of Theta Alpha Kappa (TAK), the National Honor Society of Religious Studies and Theology. Members have pursued careers in higher education, parish and university ministry, secondary education and social activism and many other vocations.
Dia de los Muertos
The OLLU community participates in Dia de los Muertos (Day of the Dead), a religious ceremony wherein the dead are recalled, honored and celebrated. The celebration, which has taken place for more than 20 years at OLLU, provides unique insights into an oral religious belief system that is still very much alive today. Among these insights: death is feared but accepted with frivolity and celebration; the dead are recognized as present among the living, and so their continuing needs are met through songs, prayers, food, and drink; and finally, celebration is appropriate not only to honor the dead but also to embolden the living in the face of death. The theology and spiritual action program continues the Dia de los Muertos tradition to celebrate a common culture and belief, and to explore the relationship of the ritual to a larger belief system.