English Visiting Writer Program
---
Thank you to the Kelly Fund at the San Antonio Area Foundation for their sponsorship of OLLU's Visiting Writer.
Each semester, an accomplished writer visits OLLU to work with students and give a public reading. For more information, contact Octavio Quintanilla, PhD, in the English Department at oquintanilla@ollusa.edu.
Spring 2022 Visiting Writer: Anel I. Flores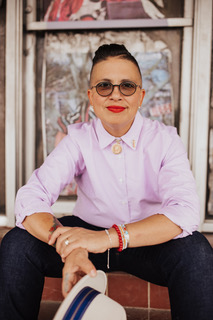 Anel I. Flores is the author of "Empanada: A Lesbiana Story en Probaditas," a Lambda literary award nominated book. She is co-editor of the forthcoming "Jota Anthology" with Korima Press. Flores is co-reviewer and co-committee member of the El Mundo Zurdo Conference organized by the Society for the Study of Gloria Anzaldúa. She also is a board member of Macondo Writer's Workshop, founder of Queer Voices Speak Out, co-founder of LezRideSA, and a member of the San Antonio Mayor's LGBTQIA Task Force.
Flores was awarded Women's Advocate of the Year 2018 from University of Texas San Antonio; the Nebrija Creadores Award from the Universidad de Alcala de Henares in Madrid, Spain; was named Best of San Antonio Local Author 2017; the Chingona in Literature Award 2016; the Ancinas Award at Squaw Valley; the NALAC Fund for the Arts Award; the Accion Women Inspiring Women Award; the Yellow Rose of Texas Educator Award; and the Mentorship Leadership Award from the National Performance Network.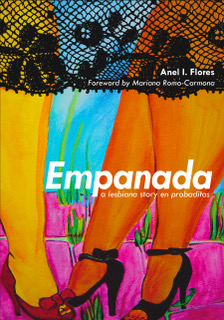 Among various anthologies and magazines, Flores' work can be found in Camino Real, the Fifth Wednesday Journal, RiverSedge Literary Journal, Entre Guadalupe y Malinche: Tejanas in Literature and Art with UT Press, The Jota Anthology, Queer Spiritualities, Rooted: A Queer Women of Color Anthology, El Mundo Zurdo Anthology, The Brillantina Project, Sinister Wisdom, This City Is A Poem, Raspa Magazine, OutInSA Magazine, iungo Arts Magazine, the Lodestar Quarterly, The Pitkin Literary Review and La Voz de Esperanza.
Flores' play "Empanada" toured for more than eight years throughout the university and theater circuit and continues to be produced today. She is currently in the process of completing her forthcoming book, "Cortinas de Lluvia," a series of children's books and a graphic memoir titled, "Pintada de Rojo." Her teaching career includes 11 years in public high schools, colleges and universities, along with four years in arts administration, and continuous community literary workshops.
Her website is https://anelflores.com .
Previous Visiting Writers