Bachelor of Arts in Data Analytics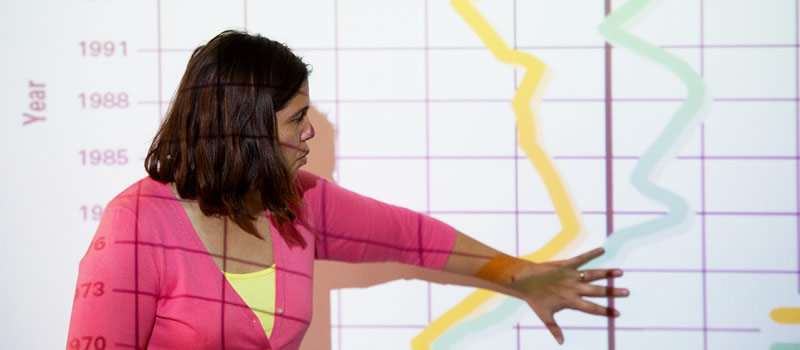 Get started on your Journey
Being able to analyze raw data and turn it into useful information is an in-demand skill set that is highly sought across industries, businesses and organizations. OLLU's bachelor's degree in Data Analytics will prepare you to extract, analyze and organize data and present findings to various audiences through dashboards, charts and other data visualization. Graduates will have the skills to provide the data that companies and organizations need for evidence-based problem solving and decision making.
Career Outlook
The Data Analytics program provides hands-on, interdisciplinary experiences that prepare graduates to work in a variety of fields. Data Analytics is one of the fastest growing career fields and is projected to grow 36% in the next 10 years. People in the field earn well over the U.S. median income. Industries and organizations where the skills of a data analyst are in demand include:
Business and financial markets
Computer and information technology companies and organizations
Healthcare and community health organizations
Environmental science research and assessment areas
Government organizations
Insurance and banking industries
Large corporations
Scientific research and development organizations
Real-World Experience
All students in the Data Analytics program are required to take a practicum/internship course in which methods and skills are practiced under supervision in a business or organization setting. The practicum prepares student for professional life and/or graduate school. Practicum locations include but are not limited to:
Alamo Area Resource Center
Bexar County Health Collaborative
Bexar County Department of Community Resources
City Council Offices


Culturally Responsive Evaluation and Community Engaged Research
San Antonio AIDS Foundation
University Health System
Accelerated Bachelor's to Master's Program
Students in the Data Analytics bachelor's program will have the opportunity to earn credits toward the Master of Science in Business Analytics program at OLLU. Students can take two courses (six credits) at the undergraduate tuition rate that count toward both the bachelor's and master's degrees. The Accelerated Bachelor's to Master's (ABM) Program allows students to save time and money when working toward an advanced degree.
Degree Plan and Course Descriptions
View full Data Analytics degree plan and all course descriptions
View plan for Data Analytics minor
Data Analytics Course Highlights
The Data Analytics program is designed to allow students to develop skills that apply across industries and select courses for specializations. Some required courses are highlighted below:
Business Analytics
Application with descriptive statistics and their presentation, inferential statistics and their interpretations, and linear programing and its analysis. Students will learn and use Access, Excel, and Solver for the applications.
Database Analysis and Design
Analysis, design, implementation, management of databases in real-world scenarios. Uses information systems development methodologies such as Object-Oriented Analysis and Design, Computer-Assisted Systems Engineering software, and current database/object management systems to analyze and design database systems.
Probability and Statistics
A non-calculus course on principles and practice of statistics and probability. Topics include data analysis, elementary probability theory, regression and correlation, and inferential statistical techniques, including sampling theory, estimation procedures and hypotheses testing. A statistical software package is used throughout.
Marketing Research Project
Research methods course allows students to gather and analyze secondary data and to conduct primary research on a service-learning project that will be completed in the next semester. Student will conduct research for a business or organization that wants to target community and/or nonprofit markets. Students learn and implement new models, systems and products tough collaboration, field research, open sourcing, social media analytics, and research. Upon completion of this course, students will have completed background and primary research and form a plan to create a new innovation.
Mapping the Social World
Introduction to the use of geographic information systems for mapping social space. Topics include the social production of space, spatial dimensions of social inequality, human ecology, comparisons of urban and rural social space, and implications of spatial configurations of social phenomena for program development, implementation and evaluation, with application on themes related to immigration and community health.
Research Seminar
Through hands-on and one-on-one experiences with their instructor, students will learn how to collect and analyze data and discuss their findings tough written reports. Specifically, students will learn the 1) basic elements of designing and administering questionnaires 2) most common sampling methods used in the social sciences and 3) basic statistical procedures used to describe, summarize and analyze original or pre-existing data. Students will gain vital technical proficiencies including Statistical Package for the Social Sciences (SPSS) and Online Survey platforms like Qualtrics or Survey Monkey, which will make students more marketable in the workforce and/or post-undergraduate studies.
Practicum
Experiential learning opportunity in which methods and theories of sociology are applied in practice while working under supervision in a public or private sector setting. Students will practice skills and knowledge on community health and/or immigration issues in order to prepare for professional life and/or graduate school.
Capstone in Data Analytics
Provides hands-on experience in data analytics with Python. The experience provides students with the opportunity to apply the knowledge and skills they gained throughout their program. Each student works on a project by employing their skills in probability, inference, data visualization, data management, and regression. Prepares students to deal with the complexity of data analysis they will encounter outside of the university.