Comparative Mexican American Studies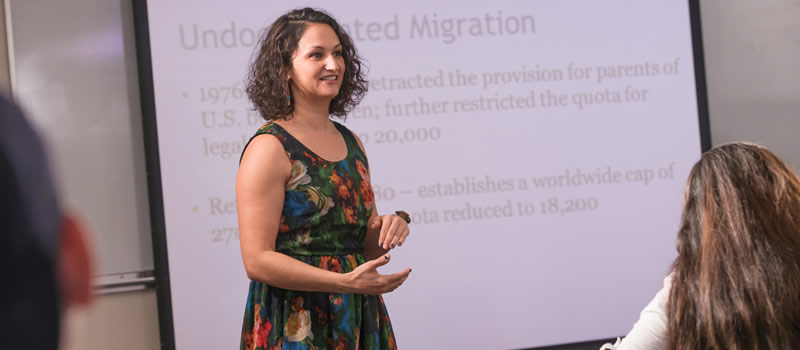 Get started on your Journey
The Bachelor of Arts degree in Comparative Mexican American Studies (CMAS) integrates the arts, humanities, and social sciences to give students a comprehensive understanding of the historical development, contemporary experiences and cultural expressions of Mexican Americans from within comparative and transnational perspectives. The program features concentrations in Cultural Studies and Social Transformation and prioritizes OLLU's commitment to social justice through collaborative research, community engagement and service learning in San Antonio's West Side.
The CMAS degree is interdisciplinary, which means the courses include a variety of academic disciplines. This allows students to create a degree plan that meets their individual career goals, talents and interests.
The concentration in Cultural Studies emphasizes the arts and humanities, while the Social Transformation concentration is geared toward the social sciences. Both degree plans require a minimum of 36 credit hours, of which at least 18 will be advanced. The CMAS major does not require a minor, but incorporates skill-based collateral requirements that are focused on professional development or preparation for graduate study. Alternatively, students can pursue a Biliterate Certificate through the Spanish department or select a minor in a related discipline.
Programs Offered
Biliterate Certificate Program
Spanish-speaking students can earn a degree with dual-language (English/Spanish) emphasis through the Biliterate Certificate Program. Students take specialized courses taught in Spanish and fulfill a portion of their major requirements by completing a practicum or learning experience in a Spanish-speaking setting. Earning the certificate certifies that a student is proficient in both English and Spanish.
Special Collections
OLLU maintains special collections of historical documents and information including the Maria Antoinetta Barriozabal collection and the Mexican American Collection. OLLU also holds the Old Spanish Missions Collection, which reflect the period from 1680-1820 and include maps, photographs, drawings, and writings about the mission, many of which are duplicates from archives in Mexico, Spain, Italy, England and France. In July 2015, San Antonio's five historic missions were recognized as a "World Heritage Site" by the World Heritage Committee of the United Nations Education, Scientific and Cultural Organization (UNESCO).
Center for Mexican American Studies and Research
The Center for Mexican American Studies and Research (CMASR) was established in 2001 as a university-wide resource for research, teaching, and scholarly activities related to Mexican American culture. The CMASR supports student, faculty and staff involvement in curricular and extracurricular programming, international and bilingual programs, as well as research and community engagement.