Education - Teacher Preparation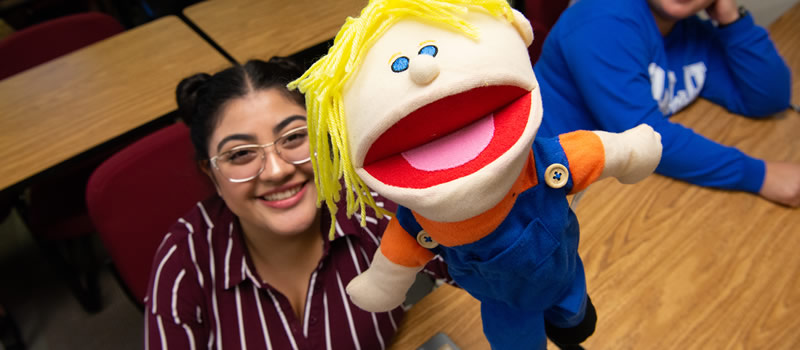 Get started on your Journey
The Education Department at Our Lady of the Lake University provides a variety of offerings for students who wish to pursue a career in teaching. All programs are designed to prepare graduates to meet the educational needs of a growing and diverse student population.
OLLU's Education Department is built on more than 90 years of experience of preparing undergraduate students to become classroom teachers. Students who pursue a graduate degree in education serve in related education roles such as reading specialists, school counselors and instructional leaders.
Teacher Preparation Programs
OLLU offers three different teacher preparation programs with a variety of specializations.
Scholarship Opportunity
OLLU's education program is one of only 10 programs in Texas selected to participate in the Raising Texas Teachers program for the Charles Butt Scholarship for Aspiring Teachers. This scholarship program, funded by Raise Your Hand Texas, will provide scholarships annually to students who choose to pursue a degree in education. Visit the Charles Butt Scholarship page for information about the scholarship criteria and how to apply.
Hands-On Learning
Field Experience
Students get hands-on experiences in the classroom setting through multiple field experience opportunities. Through the specified courses, students go through observation and supervised practice in an elementary or secondary classroom, which includes observing the teaching/learning process and working with students individually, in small groups and in whole group settings. The varied experiences exposes students to various types of students and teaching philosophies so they are better prepared for what they may encounter once they enter the classroom on their own. Students have approximately three to four different field experience opportunities while working on their degree.
Clinical Teaching Residency Pathway
In addition to field experiences and practicums, education majors complete a yearlong clinical teaching experience. Clinical teaching is the final step in completing the teacher education program at OLLU. Students enroll in this course sequence after they have completed all the prerequisite courses and TEACH requirements. Teacher candidates will be paired with an experienced and TEA qualified mentor teacher. Teacher candidates will complete an intensive field experience in their mentor teacher's classroom. The following semester candidates will be placed in the same classroom, with the same mentor teacher, for at least 14 weeks (70 days) of full-time (100% of the school day) supervised clinical teaching in their certification area. During all phases of clinical teaching, candidates progressively demonstrate their ability to effectively plan and teach developmentally and culturally appropriate lessons following a co-teaching model. They also apply a variety of relevant evaluation methods and assessments with students in their classrooms. Clinical teachers candidates are well supported as they develop their personal and professional identity as a teacher.
Detailed information on the Clinical Teaching Residency is available here .
Paid Clinical Teaching Opportunity
Through a groundbreaking partnership with local San Antonio Independent School District (SAISD), some OLLU education majors will complete their clinical teaching in the form of a one-year paid clinical teaching experience. This allows candidates the opportunity to fully experience the complete timeline of the academic year in a school.
EPP Performance and Program Accountability
Per Section 21.0452 of the Consumer Information about Educator Preparation Program , The Our Lady of the Lake University Educator Preparation Program is designed to foster the intellectual and professional development of future teachers. Through the guided application of content knowledge, effective pedagogical models, varied field experiences, hands on learning opportunities, and reflective practice, pre-service teacher candidates develop their instructional expertise and acquire professional skills. This program celebrates diversity as we emphasize the importance of applying culturally relevant and developmentally appropriate practices to our teaching. Our graduates are ethical and responsive practitioners; they are prepared to implement differentiated teaching and learning strategies in order to best meet the comprehensive needs of diverse student populations (including students with linguistic, cultural, and learning differences). Our graduates live the core values of OLLU: Community, Trust, Integrity, and Service.
The pass rates as reported in the ASEP Report for the last five academic years:
Certification Exam Pass Rate for OLLU candidates
2017-2018 100%
2018-2019 95%​
2019-2020 100%​
2020-2021 92%​
2021-2022 98%​
For more information about educator preparation programs in Texas please visit the Texas Education Agency site for Consumer Information about Educator Preparation Programs .
Supply and Demand of Texas Teachers
Per TAC §227.1 (c)(3)(A) the Texas Education Agency requires Educator Preparation Programs to notify their candidates that teaching positions are more difficult to secure in districts along the I-35 corridor in Texas due to the number of teacher preparation programs providing candidates within those educational markets. OLLU lies within the I-35 corridor but has experienced a consistently high rate of employment for certified candidates.
Student Organizations
There are several student organizations dedicated to and enhancing the education program at OLLU and advocating for education-related issues. These organizations also value community service and are often found in the community working with children and families. Through these organizations, students also receive professional development opportunities as well as attend regional and national conferences.
Bilingual Education Student Organization (BESO) - this organization promotes the content, procedures and philosophy of bilingual and bicultural education.
Texas Association of Future Educators (TAFE) - OLLU has recently formed a chapter of this statewide student organization created to allow students to explore the teaching profession. The organization also promotes character, service and leadership skills among its members.
Audio Description

Play Video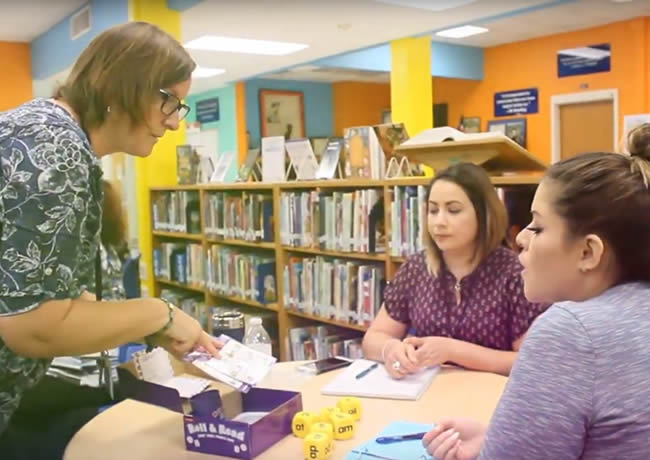 Program Highlights
The education program at OLLU offers hands-on learning with partnerships with local schools. View the video to get a glimpse at what it is like to study education at OLLU.
Service-Learning
Service-learning opportunities are built into several of the courses in the education program. Students take what they have learned in the classroom and apply that knowledge in community organizations working with children in various capacities. These experiences give students the opportunity to work with students outside of the traditional classroom setting.