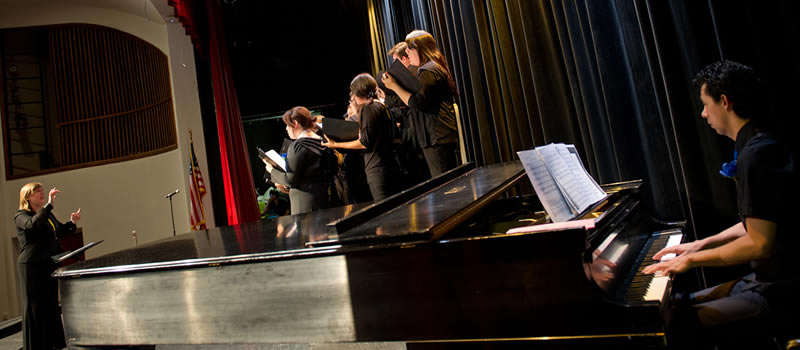 Get started on your Journey
The Music program at Our Lady of the Lake University helps students prepare for a career in music. The program emphasizes conducting, music ministry, music education, music therapy, music history and performance. Class sizes are limited to 10 or fewer students in order to provide the high level of individual attention and mentoring to each student that is the signature of the OLLU Music Program.
Students learn from faculty who are accomplished professional performers, conductors, composers, research scholars and teachers. They bring a wealth of experience from the real world of professional music to the classroom, ensembles and applied music studies. The music faculty are dedicated to ensuring students have the opportunity to gain the knowledge and skills necessary to pursue lasting careers in music.
Programs Offered
The Bachelor of Arts in Music is designed for students who are interested in the fields of music therapy, music education, health care, music business, music law and music media production and other careers in which music as a second major is preferred by employers. A second major or double minor is required for this degree.
The Bachelor of Music degree in Sacred Music is designed for students pursuing professional careers in music performance, conducting and music ministry, as well as those who intend to enter the priesthood, ministry or a Catholic order or community. This degree emphasizes the practical application of skills as well as theoretical learning in order to produce highly competitive graduates. This degree prepares students for graduate studies in all fields of music.
The music minor pairs well with many of the majors offered at OLLU. Students who pursue the music minor gain a solid foundation through their studies with courses such as music theory, sight-singing and ear training, and keyboard harmony.
The following certifications are available to OLLU music students
Royal School of Church Music (RSCM)
American Guild of Organists (AGO) Service-Playing Certificate
Earn a Bilingual Music Degree
Spanish-speaking students can earn a Music degree with dual-language (English/Spanish) emphasis through the Biliterate Certificate Program. Students take specialized courses taught in Spanish and fulfill a portion of their major requirements by completing a practicum or learning experience in a Spanish-speaking setting. Earning the certificate certifies that a student is proficient in both English and Spanish.
Audition and Music Scholarships
Students accepted by OLLU who declare a major in music are accepted to the music program without an audition. OLLU offers scholarships specifically for music majors, for which an audition is required. Music scholarship auditions occur six times per year, including the summer. Students should contact the music department to request an audition. Students who are unable to attend any of the scheduled audition days should contact the music program to arrange an e-audition.
Advanced Ensembles
Music scholarships are awarded each semester to those students who successfully audition into an advanced ensemble. The lower level ensemble curricula provides students the opportunity to develop the required advanced ensemble skills.
Performance Ensembles
Participation in OLLU's choirs and ensembles helps students perfect their music talents, enhance their skills and prepare for live performances. With participation in these groups, students can earn credit, fulfill general education requirements, and enrich their college life.
Open to all students, the University Chorus performs popular and classical music. Members develop their voices through the music studied in formal and informal performances.
All students taking private instruction in voice perform during recitals at the end of each semester.
Open to all students, the Chapel the Chorus is a liturgical choir under the direction of Campus Ministry.
Mariachi OLLUtlan is a vibrant performing ensemble that reflects the rich cultural heritage of San Antonio. Students are provided with the skills to perform mariachi music at an artistic level and have many opportunities to perform. For more information, contact Dr. Elizabeth Dyer at 210-431-7082 or edyer@ollusa.edu.
The Wind Ensemble includes woodwinds, brass, and percussion. The ensemble performs in student recitals and for campus events. A placement audition is required, and some instruments are available for use. For more information, contact Dr. Elizabeth Dyer at 210-431-7082 or edyer@ollusa.edu.
The SACOLLUSA Chamber Orchestra includes violins, violas, cellos and bass players from OLLU, San Antonio College and the community. The ensemble performs in student recitals and for campus events at SAC and around San Antonio. A placement audition is required, and some instruments are available for use.
The Guitar Ensemble is intended for advanced students and the group performs works from the Renaissance, Romantic and contemporary repertoire. The ensemble performs regular on-campus recitals.
Student Organizations
Mu Phi Epsilon Music Honor Fraternity
Music students have the opportunity to join this international music honor fraternity. The fraternity promotes scholarship, musical friendship and service and offers professional performance, networking and scholarship opportunities for aspiring musicians.
Music Ensembles Association (MEA)
All students enrolled in music ensembles are eligible to become members of MEA. This association engages in community outreach services in addition to sponsoring its members for music workshops, clinics and conferences through fundraising.