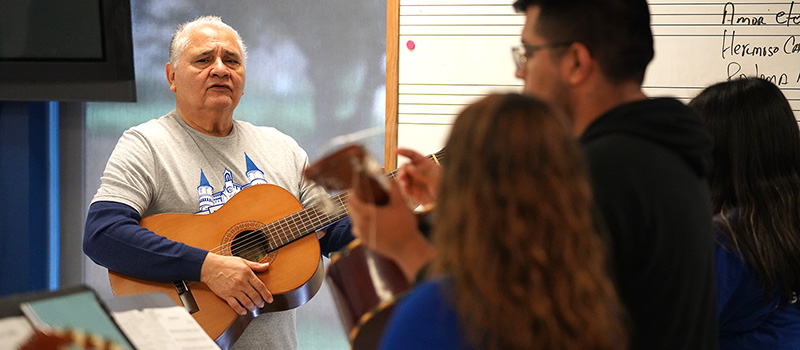 Get started on your Journey
Prepare For A Career in Music
The Music Program at Our Lady of the Lake University helps students prepare for a career in music. Students learn from faculty who are accomplished professional performers, conductors, composers, research scholars, and teachers. They bring a wealth of experience from the real world of professional music to the classroom, ensembles and applied music studies. The music faculty are dedicated to ensuring students have the opportunity to gain the knowledge and skills necessary to pursue lasting careers in music.
Music Classes for Non-Majors
The Music Program strives to be an inclusive space where musicians of all skill-levels can participate in music activities. Students who are not Music majors are encouraged to enroll in classes and participate in ensembles – many of which satisfy the university's Fine Arts General Education requirement.
Programs Offered
Students studying music at OLLU:
Develop a background in music and musicianship in preparation of a wide range of further educational and vocational activities that include music as a component.
Build a sense of and responsibility to their community through active participation in service experiences, using music skills and knowledge in real-life situations.
Make connections between their personal histories and experiences and broader historical and cultural events that have shaped musical trends around the world.
Recognize issues of social justice as they relate to music and explore how music can potentially shape their values, actions, and worldview.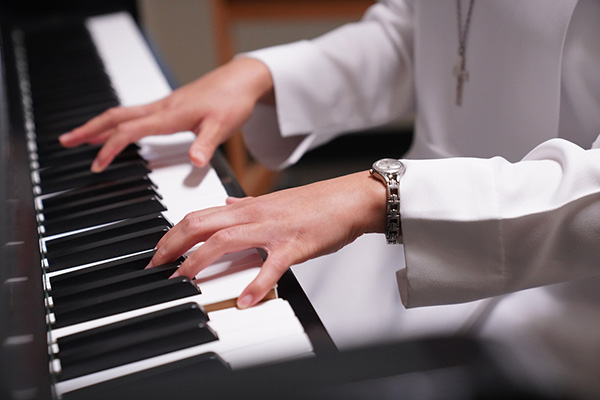 Audition and Music Scholarships
Students accepted by OLLU who declare a major or minor in music are accepted to the music program without an audition. OLLU offers scholarships specifically for music majors, for which an audition is required. Music scholarship auditions occur on a rolling basis any time before March 1st each year. Students who are unable to attend in person can arrange an e-audition. Students should contact the Music Program to request an audition by contacting:
Dr. Jessica C. Hajek
210-528-7082
jchajek@ollusa.edu



Performance Ensembles
Participation in OLLU's choirs and ensembles helps students perfect their music talents, enhance their skills and prepare for live performances. With participation in these groups, students can earn credit, fulfill general education requirements, and enrich their college life.
Open to all students, the University Chorus performs popular and classical music. Members develop their voices through the music studied in formal and informal performances. For more information, contact Dr. Jessica C. Hajek at 210-431-7082 or jchajek@ollusa.edu.
Open to all students, the Chapel Chorus is a liturgical choir under the direction of Campus Ministry. The Chapel Choir practices every Sunday at 6 p.m. in Sacred Heart Chapel before Mass begins at 7 p.m. Anyone is welcome to bring their voices or instruments to join! Contact the OLLU University Ministry Office at ministry@ollusa.edu for more information.
Mariachi de los Santos is a vibrant performing ensemble that reflects the rich cultural heritage of San Antonio. Students are provided with the skills to perform mariachi music at an artistic level and have many opportunities to perform. For more information, contact Dr. Jessica C. Hajek at 210-528-7082 or jchajek@ollusa.edu.
Located in the heart of San Antonio's westside arts & culture scene, OLLU students can also earn college credit while performing as a volunteer in one of many fine arts ensembles located nearby. This includes, but is not limited to the following:
| Heart of Texas Concert Band | San Antonio Choral Society | San Antonio Mastersingers | |
| --- | --- | --- | --- |
| San Antonio Community Wind Symphony | San Antonio Community Orchestra | South Texas Symphony Orchestra | San Antonio Community Wind Ensemble |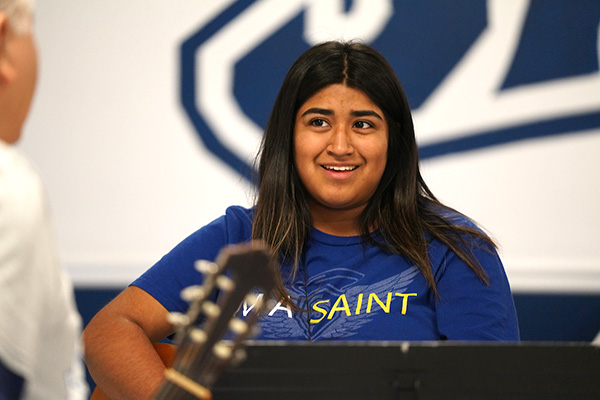 Music Ensembles Association (MEA)
All students enrolled in music ensembles are eligible to become members of MEA. This association engages in community outreach services in addition to sponsoring its members for music workshops, clinics and conferences through fundraising.