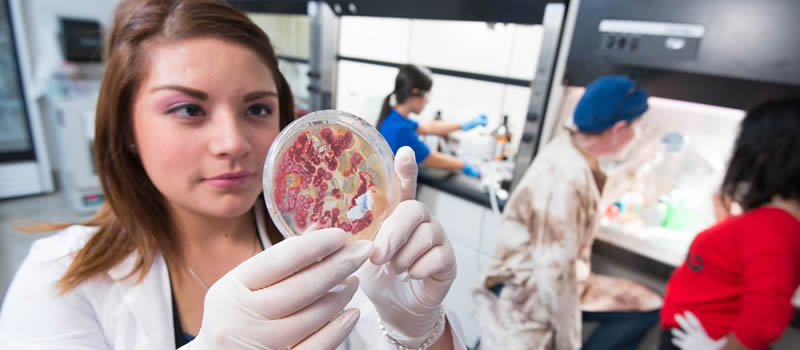 Get started on your Journey
The bachelor's degrees from Our Lady of the Lake University prepare students for graduate school, medical school and careers in the health professions, environmental science, teaching and research. Classes in the Biology program are limited to 24 students, allowing faculty members to develop personal relationships with students and provide them with the individualized help they need.
Biology Degrees and Programs Offered
Let Your Curiosity Guide You
As part of the Biology program, students can complete research projects with biology faculty and other classmates. These projects provide opportunities to explore the world and search to find the answers to commonly, or not so commonly, asked questions. Students are encouraged to use their own curiosity to develop their research questions. Additionally, some students are able to present their research at local or national conferences.
Take Your Biology Degree to Medical School
OLLU has an articulation agreement with Lake Erie College of Osteopathic Medicine (LECOM) for students wishing to go to medical, dental or pharmacy school after graduating. Through the agreement, OLLU students who meet certain criteria may receive provisional acceptance to LECOM. If the student meets the requirements outlined in the provisional acceptance, they will be guaranteed a spot at LECOM once they graduate from OLLU.
OLLU also participates in the Joint Admission Medical Program (JAMP). Under this partnership, students who meet certain criteria are guaranteed a spot in a Texas medical school upon graduation from OLLU.
Career and Graduate School Prep
Many OLLU biology graduates decide to enter the workforce directly for employers such as:
Southwest Foundation of Biomedical Research
UT Health
Ilex Oncology
South Texas Blood and Tissue Center
Brooks Air Force Base
Other graduates go on to professional or graduate schools to study the following:
Medicine
Dentistry
Optometry
Veterinary Medicine
Pharmacy
Physical Therapy
Nursing
Hands-On Opportunities
Studying biology at OLLU opens the door to many experiences for students. Some of the opportunities for exploration include:
Due to OLLU's location on Lake Elmendorf, biology classes often take place by the lake, or students may use specimens from the lake for research purposes.
Students have access to the science labs after classes and on weekends to conduct research.
Students studying the sciences and humanities also benefit from the incorporation of Anatomy in Clay

®

to the anatomy laboratories. This program brings the human body to life.