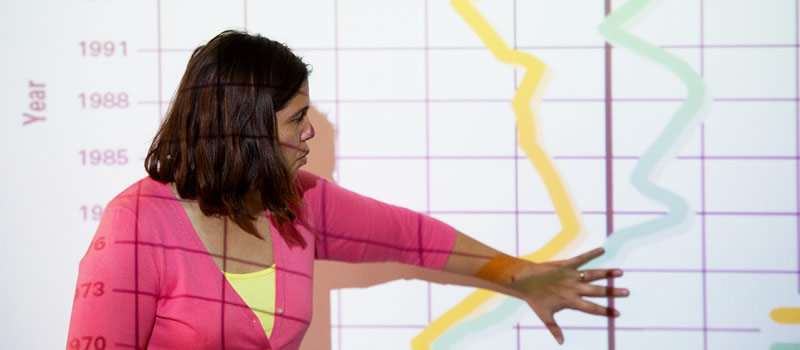 Get started on your Journey
The Bachelor of Arts in Sociology is an innovative program with emphasis on population health and quantitative demographic information - studying people and the community around them. The degree provides fundamental knowledge and problem-solving skills for those who wish to learn the practice of sociology.
Degrees, Minors and Certificates Available
Certificate Programs
Violence Prevention and Intervention Certificate
The Violence Prevention and Intervention (VPI) certificate program educates students about the evolution and cycles of violence in families, systems, and the broader culture. The combination of courses from sociology, psychology, criminal justice and social work provide students with a broad sense of knowledge when it comes to learning about basic intervention techniques for families exposed to violence and studying the effects of violence on women, children and the community.
Biliterate Certificate Program
Spanish-speaking students can earn a sociology degree with dual-language emphasis through the Biliterate Certificate Program. Students take specialized Spanish classes and fulfill a portion of their major requirements by taking courses taught in Spanish. Earning the certificate certifies that a student is proficient in both English and Spanish.
Experiential Learning
OLLU's sociology program is unique because of its curriculum, which emphasizes practice and experiential learning. Students take courses where they can conduct community projects in order to enhance learning and prepare them for their career or graduate school. Through their practicum course, students are paired up with research projects and organizations that are related to health care, STEM (science, technology, engineering and mathematics), and business. These practice opportunities give students invaluable experience they can carry into the job market.
Research Opportunities
Students will study the behavior and interactions of groups, trace their origin and growth, and analyze the influence of group activities on individual members. By focusing activities on health, immigrant issues, demographic patterns, social science and social services, the program provides students with a wealth of knowledge and skills they can take into their careers.
Graduate and Professional School Preparation
The sociology program also makes students more competitive in STEM fields by teaching them to think critically, identify ethical issues in research, evaluate different research methods and interpret the results of data gathering, among other skills,
Recent changes in the requirements for the Medical College Admissions Test (MCAT) call for more training in sociology and other social sciences. Specifically, the emphasis calls for courses in sociology that prepare medical students to understand the contextual influences on health-related behaviors, also known as the "social determinant model." This model has been taught in the OLLU sociology program for years. It is also the model faculty use in their research and work in the community.
Where are OLLU's Sociology Graduates?
Students who have recently graduated from OLLU with a major or minor in sociology have found success in their careers and graduate school. The following represent where some of OLLU's recent graduates can be found:
Community Outreach Specialist - University Health System, Division of Pediatrics
Graphic Artist - Health Collaborative of Bexar County
Social Worker - Rise Recovery
Law School Student
Master of Public Service and Administration Student
Service Coordinator - Hill Country Mental Health and Developmental Disabilities Center, Division Early Childhood Education/Head Start and Early Head Start
Learn from Nationally-Recognized Faculty
The sociology faculty is comprised of a diverse group who are nationally recognized and committed to educational excellence. Students learn from professors who are practicing sociologists and continue to conduct research regularly.
Faculty expertise ranges from migration and immigration to public health and the sociology of health. Their connection with the community further enhances the opportunities for students who work with their professors on research projects.