Clinical Doctorate in Speech Language Pathology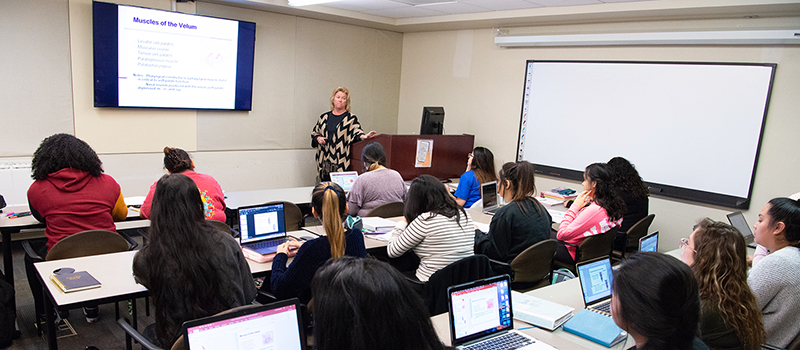 Get started on your Journey
The Clinical Doctorate in Speech-Language Pathology (SLPD) program at Our Lady of the Lake University offers seasoned, employed speech-language pathologists, the opportunity to take their speech-language pathology skills to the next level. The program prepares students for:
Leadership and administrative roles in current or new employment settings
Provision of high-quality clinical education and supervision of graduate students and CFs
Teaching evidence-based undergraduate courses in university settings, and
Completing clinical research following mentored training by our university faculty
The program places a special focus on supporting culturally diverse speech-language pathologists. Graduates completing the clinical doctorate degree will be highly skilled and well-prepared for leadership and administrative employment positions, clinical education and undergraduate teaching positions in universities and completing additional clinical research. The program will be highly individualized with only five students admitted each year. Applicants must be state licensed and nationally certified speech-language pathologists with a minimum of two years of licensure/certification.
OLLU's program is the only one of its kind offered in Texas and one of only twelve programs offered in the United States.
We anticipate our inaugural cohort of clinical doctorate students to begin the program in Fall 2025.
Program Design
The SLPD program is an in-person program with classes that meet in the evenings and alternating Saturdays.
39 credit hours (16 courses)
Three-year program
Courses take place in the evenings and alternating Saturdays
Students take up to two courses each fall, spring and summer term
Course content will include a clinical supervision experience, a university teaching experience and a clinical research capstone project
SLPD Degree Plan and Course Descriptions
Program Mission
The SLPD program mission is to create successful speech-language pathology leaders who will be dedicated to serving the profession and the community who benefit from their services. The program will contribute to knowledge in the profession through facilitation of leaderships skills, clinical supervision, scholarly teaching and clinical research that supports students, supervisees, practicing professionals and university settings.
Admission Requirements
All candidates for admissions to our Clinical Doctorate in Speech-Language Pathology program must fulfill the following admission requirements:
An earned master's degree in Communication Sciences and Disorders/Speech-Language Pathology from an ASHA Council for Academic Accreditation (CAA) accredited program
Minimum GPA of 3.50 in master's program
Minimum of two years post attainment of state licensure to practice as a speech-language pathologist and a minimum of two years post attainment of the ASHA certificate of clinical competence in speech-language pathology (CCC-SLP)
Submission of official transcripts for bachelor's degree, post baccalaureate leveling program (if completed), and master's degree in Communication Sciences and Disorders/Speech-Language Pathology
Personal statement no longer than two pages describing why the applicant is applying to the program
Three letters of recommendation from persons knowledgeable about the applicant's professional background
Résumé highlighting educational and professional backgrounds
Face-to-face or virtual interview with program coordinator and/or committee that allows applicant to share their passion for the field, their accomplishments and their enthusiasm for the Woolfolk School and SLPD program
Application Deadline
The program will only admit students in the fall, and the deadline for submitting applications for the SLPD program is May 15.