Maryssa Garza - Biology Major – Spring 2020 Senior Spotlight
May 08, 2020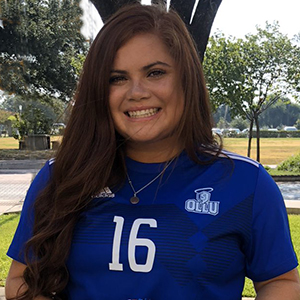 Maryssa Garza
Major: Biology
Campus Activities and Achievements: OLLU women's soccer team for four years and won two conference championships; worked for Campus Recreation; took part in OLLU's award-winning Fiesta Parade floats and the Confetti Runs with the Event Services staff.
Impact of OLLU: As a student athlete, OLLU gave me the chance to continue my education and soccer career. I have been blessed to have learned from both the biology department staff and athletic coaches, while also getting the opportunity to collaborate and participate in numerous campus events. OLLU has given me life-long friends and teammates and will leave me with unforgettable memories. My time at OLLU has further developed my character and has prepared me for what is to come. I am forever thankful for my past four years at OLLU.

An important life lesson: OLLU has taught me to never doubt my talents or give up on the goal or task at hand. OLLU has also taught me to always be open to other ideas or alternative routes and to always treat others with respect and kindness.
Plans for the future: I hope to be accepted into a graduate program in medicine. My ultimate goal is to help people and share my experiences and lessons I have endured at OLLU with others.