Jazlyn Hernandez – Communication Sciences and Disorders Major – Spring 2020 Senior Spotlight
May 08, 2020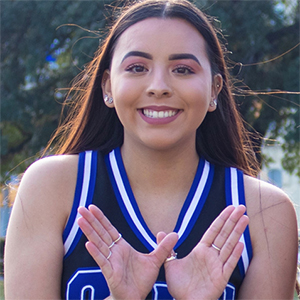 Jazlyn Hernandez
Major: Communication Sciences and Disorders
Campus Activities and Achievements: Cheer Team, 5-K Confetti Run, Campanas de America Annual Concert, Fiesta Flambeau Parade, University Events work study taking part in many weddings, Quinceañeras, conferences, and the faculty-staff awards.
Impact of OLLU: Before coming to OLLU, I thought I had everything figured out and knew exactly what I wanted to do. Which was to get my bachelor's degree in Communication Sciences and Disorders and to then further my education by getting my master's degree in order to become a Speech-Language Pathologist. However, I have come across so many amazing professors and faculty members that have given me so much knowledge about the different fields of work out there. I do love what I have learned so far, but my plans have changed. I will be graduating with my bachelor's degree in Communication Sciences and Disorders, but I now will be going on and getting my master's degree to become a School Psychologist. I love everything I have learned, and I am so thankful to OLLU and for the impact it has had on me.

An important life lesson: One of the biggest life lessons I have learned since coming to OLLU is that life is all about progress and not perfection. I always held myself high on a pedestal because I wanted to make my family proud. During these four years I have learned that it's okay to not be perfect in everything I do, as long as I get it done and put my 100% in, it was worth it. I have grown to appreciate all the little things and not let myself get in the way of that. If it weren't for a staff member there at OLLU who picked me up when I was down and led me to believe in myself, I wouldn't have valued so much these past four years. Along with having such a supportive family, especially my mom, who has been by my side in everything I have learned to overcome and the handful of friends who believed in me, I learned I could accomplish and make all my dreams come true.

Plans for the future: I hope to positively impact many students' lives who I will hopefully work with in the future along with spreading all that I have experienced and learned from my time at OLLU. I will be continuing my education and obtaining my master's degree at OLLU. After obtaining my master's, my plan is to become an LSSP and work in a school district in San Antonio. I hope to provide my support to the many students, families, and teachers so that they can excel within the school environment.