OLLU mourns passing of Elizabeth Carrow-Woolfolk ('49)
Mar 31, 2022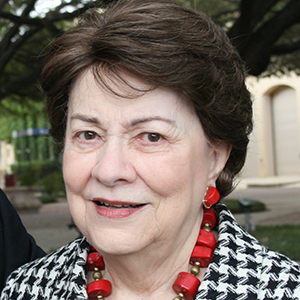 Elizabeth Carrow-Woolfolk, PhD, (BA 1949), one of Our Lady of the Lake University's most beloved and accomplished graduates, died on Tuesday at her home in Houston. She was 94.
A nationally recognized clinician and author, Dr. Woolfolk was a pioneer in language theory and assessment and continued to write and revise new editions of her work until recently.
Dr. Woolfolk developed tests for assessing language disorders in children that helped thousands of clients. She established speech pathology services at three hospitals, served OLLU as a professor and administrator and improved the lives of countless individuals over seven decades.
Her life illustrated the transformative work of Providence.
A 1944 graduate of Our Lady of the Lake High School, she entered the convent as Sister Mary Arthur and made a vow of poverty. After leaving the convent, she married Robert M. Woolfolk in 1974 and made a mark in philanthropy. With a $1 million gift in 2017, Dr. Woolfolk and her husband founded the Woolfolk School of Communication and Sciences Disorders.
"The impact Dr. Woolfolk made on OLLU and people around the world cannot be measured," said OLLU President Diane Melby, EdD. "We are proud and grateful for her extraordinary service. Her life, from beginning to end, was truly Providential."
Perhaps no alumna in OLLU history has left a greater legacy of transformation. With no money, Dr. Woolfolk began the first speech and hearing program in South Texas in the basement of Providence Hall in 1955. She had one child receiving therapy. Three years later, 40 children were enrolled in therapy and 26 students were majoring in speech and hearing therapy.
In the late 1950s, Dr. Woolfolk secured a grant from the State Legislature, and the Lone Star Brewing Company matched it. The funds paid for the construction of the Harry Jersig Speech-Language-Hearing Center, which Dr. Woolfolk helped design as its director. The Jersig Center opened in 1960 as one of the nation's first free-standing speech and language clinics. A new wing was added in 1964.
A decade after it began in the basement of Providence Hall, the Jersig Center had served more than 2,000 clients for stuttering, voice, articulation, cleft palate, hearing loss and other disorders.
Dr. Woolfolk became Vice President of Development and eventually left the Congregation of Divine Providence. She joined the faculty at the Baylor College of Medicine, helped establish clinics at three Houston hospitals and headed the speech pathology and audiology program at the University of Texas at Austin.
Dr. Woolfolk and her husband, a chemical engineer, gave generously to OLLU for many years. Their gifts supported scholarships, lecture series and events and helped rebuild Main Building after the four-alarm fire in 2008.
In 2017, she reflected on the $1 million gift that founded the Woolfolk School: "I am grateful for the opportunity of giving back to my profession and the university, where I studied and taught, a portion of what it has given me."
Funeral service information is available online . In lieu of flowers, the family asks that donations be made to the Woolfolk Legacy Fund .