National Teacher Appreciation: Spotlight on OLLU grads honored for excellence
May 05, 2022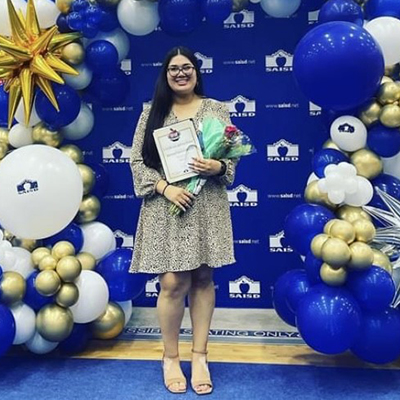 Daritza Coronel (BS 2015) has been named Bonham Academy Teacher of the Year in San Antonio Independent School District (SAISD). A dual language teacher, Coronel is the latest in a long line of alumni who have been honored for classroom excellence.
To mark National Teacher Appreciation Week, OLLU applauds its many alumni who serve students with distinction. Over the past few years, SAISD has honored a number of graduates.
They include: Dezarre Boone (BA 2018), Edison High Teacher of the Year, 2022; Dawn Cardenas (MEd 2020), SAISD Distinguished Teacher of the Year, 2019, Rodriguez Elementary; Kaci Maine (BA 2018, MEd 2020), "Rising Star," First Year Teacher of the Year, 2019, Rodriguez Elementary; and Abigail Perez (BS 2020), SAISD "Rising Star," 2021, Madison Elementary.
Other recognized alumni include:
Maricela Alarcon (MEd 2007), Northside Independent School District (NISD) Elementary Teacher of the Year, 2009; finalist for Texas Elementary Teacher of the Year, 2010
Nilda Castellanos (BSW 1980, MSW 1981), Texas School Social Worker of the Year in 2017, Southwest Independent School District
Krystal Moreno (BA 2014), School of Science and Technology Regional Secondary Teacher of the Year, 2018, Corpus Christi
Susie Navarijo (BA 1972, MEd 1979), Bilingual Teacher of the Year, 1986, San Antonio Area Association for Bilingual Education
Maria Elena Pacheco (BA 1974), Texas PTA Elementary Teacher of the Year, 2020
Kent Page (MEd 2008), NISD Educator of the Year (twice), winner of Presidential Award for Excellence in Math and Science Teaching, 2013
Laura Servin (BA 2006), 2016 Milken Educator Award, known as "The Oscar of Teaching"
Sunny Courington Stephens Stout (MEd 1977), Texas Professor of the Year, 1987
Lydia Torres Tucker (BSW 1978, MSW 1984), Texas Librarian of the Year 2013 and Teacher of the Year 1994, 1996 2010, 2011 at Cable Elementary School, where she taught bilingual education
Gloria Zamora (MEd 1968) -- Outstanding Educator of America, 1974, National Association for Bilingual Education "National Honoree 2000"