OLLU to award full scholarships to 20 first-generation students
Sep 29, 2022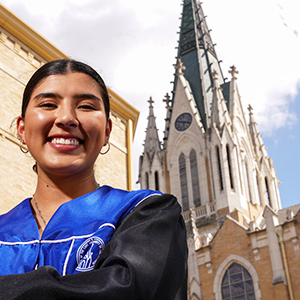 Recognizing the talent, grit and inherent leadership of first-generation, college-bound students, OLLU will award full tuition and fees scholarships to 20 incoming freshmen for the fall 2023 academic year.
The OLLU Futuro Leaders Scholars Program was created in response to the Texas Higher Education Coordinating Board's recently announced "Building a Talent Strong Texas" strategic plan.
"There is no better way to build a talent strong Texas than by tapping into the resiliency and promise of first-generation, college-bound students who, without guidance from previous generations, are building their own path to a university degree," said OLLU President Abel A. Chávez, MBA, PhD., who is, himself, a first-generation college graduate and will be providing mentorship to students in the scholarship program.
Students in the inaugural cohort will be in the OLLU Futuro Leaders Scholars Program living-learning community that builds on their inherent leadership skills. They will live together in residence halls, take classes together and attend leadership-focused events and activities outside of class, including regular sessions with President Chávez.
Every Texas high school principal will have the opportunity to nominate a student for this prestigious scholarship by the Dec. 1, 2022, deadline.
To learn more about the OLLU Futuro Leaders Scholars Program: Visit: https://www.ollusa.edu/futuro-scholars
You also may call 210-431-3961 or email: admissions@ollusa.edu