Alumna wins Lead Actress award
Oct 23, 2019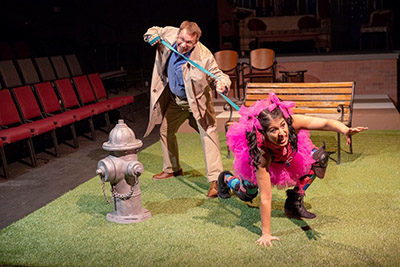 Alumna Josey Porras (BA Mass Communication '14) recently won the Alamo Theater Arts Council (ATAC) Globe Award for Lead Actress in a Comedy.
Presented Sunday, Oct. 20 at the Sheldon Vexler Theatre, Porras won her first ATAC award for her performance as the dog "Sylvia" in the production, "Sylvia."
"It was an amazing honor,' said Porras, a full-time touring actress with the Magik Theatre. "I played an exuberant and beautiful lab/poodle mix. This role was also played by great actors, such as Annaleigh Ashford and Sarah Jessica Parker. So when I was cast, I was thrilled to get a chance to experience the same fun."
Porras donned a colorful costume for an animal who is seen as a human.
"Instead of barking, Sylvia says, "Hey! Hey! Hey!" Porras said. "But she still pouts, loves getting her belly scratched, snuggles and demandingly places her pay/hand on your hand if you stop petting her. The fun part for me when working with the director was seeing just how grounded we could make her human side.
"We all see our dogs as humans. But when they're doing things like chasing their tail, or saying their 'hellos' by sniffing and licking, it's a sudden reminder of how precious they are. I wanted to do my best to capture that unique relationship all humans have with their beloved pets."