Nadia Gloria - Psychology and Criminal Justice - Spring 2021 Senior Spotlight
May 03, 2021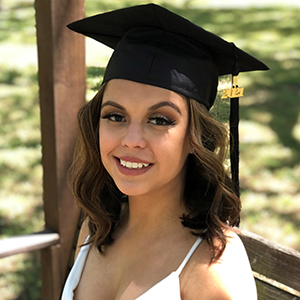 Nadia Gloria
Major: Psychology and Criminal Justice
Campus Activities and Achievements: Dance Team, Psi Chi Honor Society, Active Minds Club, Awakening Retreat and Chapel Choir
Impact of OLLU: OLLU has affected my life by pushing me to try new things and further my education by not only adding Criminal Justice as my second major but also letting me get a certificate in violence prevention. OLLU also let me start my graduate courses early by being a part of the Accelerated Bachelor's to Master's Program.
An important life lesson: The biggest life lesson I have learned is all things happen for a reason. I learned that when things do not go your way, it is because God has something better in store for you.
Plans for the future: I will be attending St. Mary's University's to get a master's degree in Clinical Mental Health Counseling. I hope to use my degree toward my dream career as a certified counselor in the juvenile system, as well work with LGBTQ youth and domestic violence survivors.