OLLU, Weatherford College create Organizational Leadership program partnership
Mar 24, 2023
Undergraduate students from Weatherford College can now take graduate level classes through Our Lady of the Lake University's (OLLU) Master of Science in Organizational Leadership program. The partnership between OLLU and Weatherford College became official March 24. OLLU President Abel A. Chávez and Weatherford College President Tod Allen Farmer took part in an articulation agreement signing ceremony officially creating the partnership.
Weatherford College is a community college with campuses in Weatherford, Bridgeport and Granbury, Texas. It recently began offering bachelor's degrees in four areas of study including Organizational Leadership. Students in Weatherford's program will be able to take courses in the OLLU master's program and have them count toward the completion of their bachelor's degree. The same courses will count toward a master's degree at OLLU for students who continue onto the university's graduate program in Organizational Leadership.
OLLU's program is offered in a hyflex format in which the professor is physically located on an OLLU campus and students can either attend in person or remotely through video technology. This format will allow Weatherford College students to attend these classes and to continue into the master's program without having to relocate. The hyflex format lets students interact with and learn from the faculty member and their classmates in a live, real-time setting.
The Master of Science in Organizational Leadership at OLLU is a weekend degree program with classes that meet every other Saturday. In addition to studying leadership with interdisciplinary professors and student colleagues, students benefit from a curriculum that stresses ethics, servant leadership and welcomes faith-based principles of leadership and stewardship. Learn more about the Master of Science in Organizational Leadership on the OLLU website.
A Facebook live recording of the agreement signing ceremony can be viewed on the OLLU Facebook page .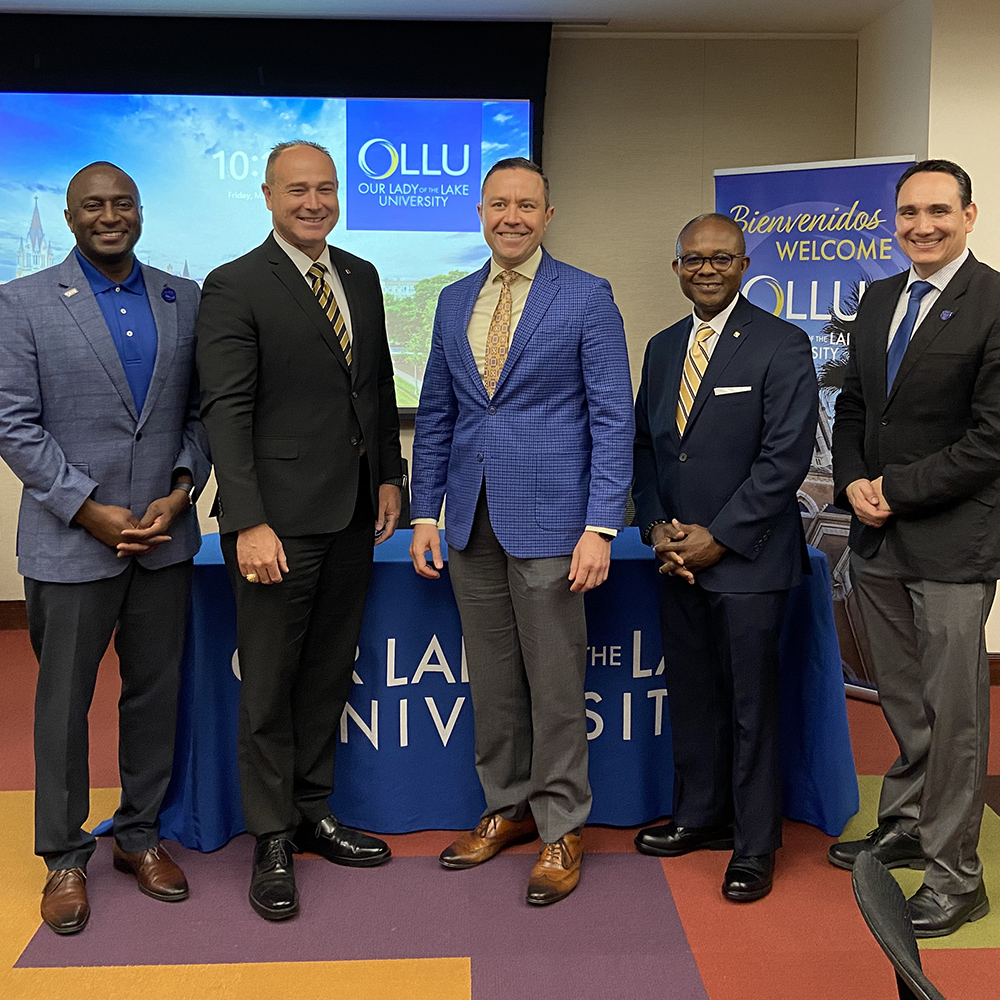 OLLU Interim Provost Dr. George Williams, Weatherford College President Dr. Tod Allen Farmer, OLLU President Dr. Abel A. Chávez, Weatherford College Dean of Academics Dr. Alex Ibe, and OLLU Associate Provost for Graduate and Online Programs Dr. Jared Montoya.