OLLU mourns passing of artist, alumnus Jesse Treviño
Feb 13, 2023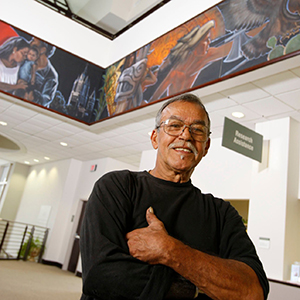 Our Lady of the Lake University (OLLU) is mourning the passing of an extraordinary alumnus and artist, Jesse Treviño (BA 1974), who overcame the loss of his right painting arm to create stunning works of photorealism. Treviño's art is on display in the Smithsonian, museums and public spaces throughout the United States, including in OLLU's Sueltenfuss Library which holds his "La Historia Chicana" mural, the first grand work Treviño painted with his left hand.
Treviño, 76, died this morning.
"Jesse Trevino was a beloved artist and friend to OLLU whose legacy reaches around the world," said OLLU President Abel A. Chávez, MBA, PhD. "He achieved fame and success but never forgot his West Side roots. OLLU is incredibly proud to count him among our alumni. He will be greatly missed."
A native of Monterrey, Mexico, Treviño came to the U.S. at age 4 and won his first art contest at 6. After graduating from Fox Tech High School, he attended art school in New York and served in the Vietnam War. Running toward a helicopter in a battlefield, Treviño took a bullet to his leg. He stumbled onto a booby trap that exploded and sent him sprawling. As he lay bleeding, face-down in a rice paddy, a vision of familiar faces from the barrio appeared. "If I get out of here alive," he vowed, "I'm going to paint them."
After returning home to San Antonio, doctors amputated his right arm. A long, grueling process of learning to paint with his left hand began, first at San Antonio College. Later, two Sisters from the Congregation of Divine Providence, Sister Tharsilla Fuchs and Sister Ethel Marie Corne, helped Treviño refine his skills at OLLU.
"I didn't have confidence," Treviño said at OLLU in 2019. "They helped me regain it."
Under the guidance of the Sisters, Treviño painted the mural "La Historia Chicana," which was initially displayed in the Student Union Building. A special space was made for the mural in the Sueltenfuss Library when it was constructed in 2000.
Treviño went on to paint the people and places dear to his heart, master works such as "La Raspa," "El Alameda" and "Senora Dolores Treviño," a portrait of his mother hanging laundry. Texas Monthly called it, "one of the best paintings of an artist's mother since Whistler's."
His largest and best-known work is "Spirit of Healing," a 93-foot mosaic mural that rises as the iconic face of Christus Santa Rosa Hospital. Fashioned out of 150,000 hand-cut ceramic tiles, the mural towers over Milam Park, depicting a boy cradling a dove, shielded by an angel.
Treviño's art enlivens other spaces nearby: a mural of Latino vendors, musicians and dancers -- "La Feria" -- outside the restaurant, La Margarita; a tiled mosaic of Lions on a Goodwill Center wall; and a three-dimensional, four-story prayer candle -- "La Veladora" -- at the Guadalupe Cultural Arts Center. Also on display in OLLU's library is a painting of the university's Main Building, which Treviño created for OLLU.
In 1993, Treviño had a solo exhibition at the Smithsonian American Art Museum in Washington, D.C. The 1976 work, "Mis Hermanos," was among his featured portraits. It became the subject of a 3-minute "Our America Audio Podcast:"
Treviño's art drew critical acclaim. The New York Times called him, "a Texas-based artist who brings to his Hyperrealist style a sharp sense of situational and compositional irony. ... With Treviño, we are drawn into human situations, rather than being told about them."