OLLU secures $1.9 million in grants since start of fiscal year
Aug 08, 2022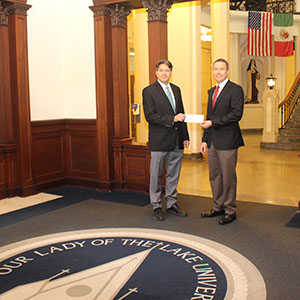 Since the beginning of the fiscal year on June 1, OLLU has secured more than $1.95 million in new grant funding. These awards will be paid out over multiple years and the focus of the funding is on student scholarships and support.
Awards include:
$1,339,205 (over 5 years) from the U.S. Dept. of Education, Ronald E. McNair Postbaccalaurate Achievement Program to support the McNair Scholars Program.
$284,106 (over 3 years) from the National Science Foundation, Improving Undergraduate STEM Education: Hispanic-Serving Institutions (HSI Program) to fund the "Supporting Persistence by Increasing the Relevance of Algebra to Learning (SPIRAL)" project which aims to improve STEM outcomes among OLLU students.
$250,959 (over 4 years) from the USDA National Institute of Food and Agriculture, Hispanic-Serving Institutions Education Grants Program to increase recruitment, graduation, and career readiness in food and agriculture sciences by diminishing barriers and prioritizing the inclusion of historically marginalized, underserved populations through a city-wide collaboration of three Hispanic Serving Institutions – OLLU, UTSA and Northeast Lakeview College.
$50,000 from the Texas Higher Education Coordinating Board to develop an evidence-based First-Second Year Experience program that is rooted in the tenets of IDEA (inclusion, diversity, equity, and accessibility).
$15,000 from the Ellucian Foundation for the Progress, Accomplishment, Thriving, Hope (PATH) Scholarship Program for students experiencing emergency economic hardship.
$8,150 from the San Antonio-Mexico Foundation for Education for scholarships to expand educational opportunities for Mexican students and those of Mexican origin living in the U.S.
$3,500 from the Consulate General of México for IME-Becas Scholarships to expand educational opportunities for Mexican students and those of Mexican origin living in the U.S.
Pictured above: Ruben Minutti, Consul de Mexico in San Antonio, presents a $3,500 check to President Abel A. Chávez as part of the IME-Becas program that supports Hispanic students pursuing higher education in the U.S.