OLLU students receive $35,000 in scholarships from Valero Alamo Bowl
Sep 09, 2021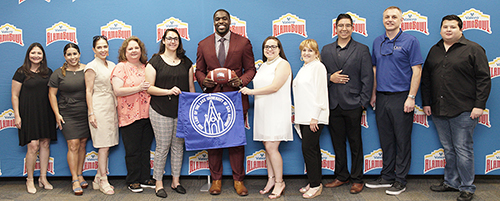 Fifteen OLLU students received $35,000 in scholarships from the Valero Alamo Bowl. The scholarships are awarded on the basis of academic achievement, teacher recommendations, financial need, involvement in extracurricular activities and varsity sports as well as honors received and a personal narrative.
The Valero Alamo Bowl started a scholarship program in 2000 with 26 San Antonio high school students splitting $52,000 in scholarships. The success of the game allowed the Bowl to add a college scholarship program in 2016. These two programs now combine to award an average of $1 million distributed to 150+ deserving students each year. This amount is the largest local scholarship total among the 42 bowl games.
Congratulations to OLLU 2021 Valero Alamo Bowl scholarship recipients: Alisa Amaya, Ashley Cedillo, Jalyn Earl, Charbel Elbayeh, Araceli Garcia, Gabriella Granado, Norberto Lira Pena, Britney Morales, Anna Perez, Angela Ramirez, Jesus Rodriguez, Sebastian Rodriguez, Jewel Ruiz, Megan Sifuentes and Cynthia Torres.