OLLU awarded honorary doctorate to Trustee Roy Terracina
May 03, 2021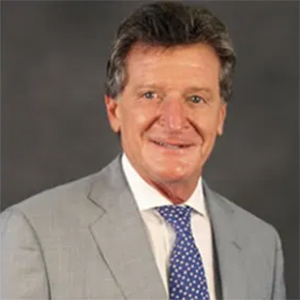 For his many years of distinguished service to Our Lady of the Lake University (OLLU), Board Chair Emeritus Roy Terracina received an honorary Doctorate of Humane Letters during spring commencement ceremonies on May 8.
Since joining the Board of Trustees in 2006, Terracina has helped strengthen and position the university for innovation and growth. His strong advocacy for online education and a return to intercollegiate athletics have yielded remarkable results.
Together, online learners and student-athletes represent 44.7 percent of OLLU's enrollment.
"Roy has been a strong and instrumental leader in the growth of the university," said President Diane Melby, EdD. "We are grateful for his service and proud to give him this Honorary Doctorate of Humane Letters."
An accomplished businessman, Terracina has served as President of Sterling Foods, Vice Chairman of U.S. Global Investors and CEO of Sunshine Ventures. He recently became CEO of Sonar Co., which offers technology solutions based on sound.
Terracina has provided strong leadership. He helped guide OLLU through the introduction of athletics in 2007; through the four-alarm fire of 2008 that destroyed the roof and fourth floor of Main Building; through the rebuilding of Main in 2010 and the beautification of 24th Street; through the launch of online learning in 2011; and through the construction of the Lake View Residence Hall, which opened in 2018.
Growing up in an impoverished neighborhood in Chicago, Terracina struggled in high school. He excelled in boxing but didn't like to study, graduating 254th in a class of 269 students. Motivated by peers whom he admired, Terracina became a first-generation college student and earned two degrees from Marquette University.
He has used his personal and business experiences to mentor OLLU students. Through his guidance, many have secured internships and jobs. He also has recruited high school students to the university.
Terracina has given generously to the basketball program, helping fund equipment and travel expenses for the Saints.
Inspiring students is one highlight of Terracina's OLLU tenure. A second is receiving the Honorary Doctorate of Humane Letters.
"It feels wonderful," he said. "Coming from my neighborhood and being the first in my family to finish high school, much less college, this is beyond my wildest dreams."