OLLU receives $3 million grant for STEM education
Oct 29, 2021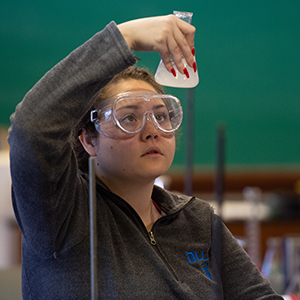 The Title V Developing Hispanic-Serving Institution (DHSI) Program grant will launch initiatives designed to improve core STEM courses in math, physics, physical science, chemistry and biology. The grant also will provide extensive training for STEM faculty and create an Experiential Learning (EXL) STEM Studio to facilitate learning.
"This grant will propel the university forward as a proud Hispanic Serving Institution (HSI)," said OLLU President Diane Melby, EdD. "As a premier university serving students who are Hispanic, OLLU sends many onto our nation's finest medical and research schools. This grant will expose even more of our students to careers based on rigorous curriculum and advanced facilities."
Expanded learning opportunities excite grant project director Teresita Munguia, PhD.
"The grant will allow us to remodel and convert some of the fourth floor of the Metz science building into a state-of-the-art makers space," said Dr. Munguia, Associate Professor of Chemistry and Interim Associate Vice President for Academic Affairs. "I am most excited about creating our Experiential Learning STEM Studio. The idea behind the development of this space is to strengthen our ability to conduct problem-based learning."
The grant objectives include increasing the retention rate of first-time students, increasing the 4-year cohort graduation rate and increasing the number of STEM degrees awarded. To help accomplish the objectives, faculty will participate in a series of professional development activities.
This is the third Title V DHSI grant OLLU has secured since 2009. OLLU received a cooperative grant with San Antonio College in 2014 and an individual development grant in 2009.