OLLU earns Silver Seal for student voter participation
Nov 10, 2021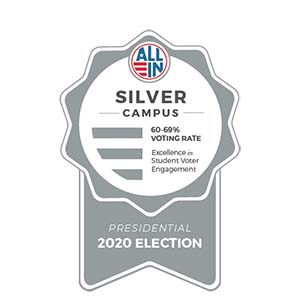 OLLU has earned a Silver Seal from the ALL IN Campus Democracy Challenge for nonpartisan student voter participation efforts in the 2020 presidential election.
The Silver Seal was awarded to schools with a 60 to 69 percent student voter participation in last year's election.
OLLU's student voting rate in presidential elections increased from 52.4 percent in 2016 to 62.9 percent in 2020. Most significantly, OLLU saw an increase of 16 percent in the undergraduate vote -- from 40 percent to 56 percent.
"This Silver award is the result of the hard work of so many across campus -- especially our students -- who held many voter registration drives, get out the vote activities and debate watch parties," said Leda Barnett, PhD, Professor and Program Head of Political Science. OLLU has a long history of service and community and civic involvement, and we will continue to build on that tradition."
The goal of the ALL IN Campus Democracy Challenge is to foster civic culture and institutionalize democratic engagement activities and programs at colleges and universities, making them a defining feature of campus life. ALL IN also strives to close voting gaps based on age and race, with a particular focus on increasing support and outreach for minority serving institutions (MSIs) and community colleges.