OLLU announces $55 million campaign
Nov 05, 2021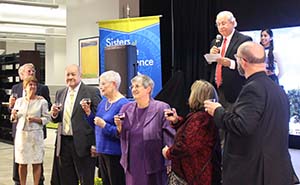 Our Lady of the Lake University (OLLU) made history on Nov. 4 by launching the largest capital campaign since its founding. Higher Education, Higher Purpose, a $55 million comprehensive campaign, will fund an ambitious range of projects for current students and future generations.
OLLU also announced that Sacred Heart Conventual Chapel has been listed in the National Register of Historic Places. Built in 1923, the renovation of the chapel is one cornerstone of Higher Education, Higher Purpose. Campaign funds will be used to restore the chapel to its original splendor and gothic beauty.
Higher Education, Higher Purpose aims to raise money for construction, preservation and scholarships.
Board Chairman Paul Olivier announced that OLLU has raised $46 million -- 85 percent of the goal. OLLU President Diane Melby, EdD, said the campaign will impact current students and future generations.
"Higher Education Higher Purpose will advance the mission of our founders, the Sisters of Divine Providence, and enable OLLU to prepare a new generation of leaders through the 21st Century and beyond," Dr. Melby said. "The campaign will not only benefit students. Higher Education, Higher Purpose will impact area residents and the entire West Side."
Cornerstones of the campaign include:
Construction of a $7 million state-of-the-art facility on West Commerce: The Center for Children and Family. The center will bring OLLU's Community Counseling Service (on North General McMullen) and the Harry Jersig Center (on campus) into one, two-story location. Clients will receive reduced cost mental health counseling and no-cost treatment for speech, language and hearing disorders.
Scholarships. Almost 100 percent of our undergraduates receive scholarships or financial aid. Nearly 60 percent receive Pell Grants. Though students receive more than $15 million in scholarships annually, more is needed to educate the next generation.
Capital improvements are needed to preserve historic buildings and renovate learning spaces. Gifts toward the Board Designated Fund will support this effort and ensure the long-term stability of the Jewel of the West Side.
Renovation of Sacred Heart Conventual Chapel and Chapel Auditorium, located below the historic chapel. The largest gathering space of its kind on the West Side, Chapel Auditorium hosts business meetings, receptions and quinceaneras -- more than 200 events a year.
Please consider joining OLLU in this historic endeavor. Visit the campaign website to learn more.