Alumna wins national award for reporting on Hispanic communities
Aug 03, 2021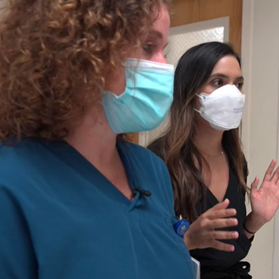 Angélica Casas (BA 2015), a senior video journalist for BBC News, has won the 2021 Cecilia Vaisman Award for outstanding reporting on Hispanic and Latinx communities. Casas, the former Editor in Chief of the LakeFront News, also won a $5,000 cash prize.
The Vaisman Award is given jointly by the Northwestern University Medill School of Journalism, Media, Integrated Marketing Communications and the National Association of Hispanic Journalists. The award honors an individual working in audio or video journalism who works to shed light on issues affecting Hispanic and Latinx communities inside and outside the U.S. and is an active member of the National Association of Hispanic Journalists.
"I am humbled to be the recipient of this award," said Casas, who earned bachelor's degrees in Mass Communication and Spanish at OLLU. "Telling stories about the Latino community is a privilege and great responsibility—one I don't take lightly. It is my hope that this award not only recognizes my work, but also the people who trust me with their stories, the editors who understand the importance of amplifying diverse voices and allow me to do this work, and mi familia, who never lets me forget where I come from."
Casas has reported on the toll of COVID-19 on Latinos. She has interviewed immigrant workers at a meatpacking plant that had the highest COVID-19 case rate in the country. Most recently, she interviewed unvaccinated patients who were hospitalized with COVID-19 in rural Arkansas -- and captured their regrets.