Professor Benavides wins national media award for commentary
Jul 02, 2020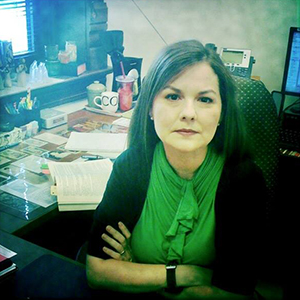 Yvette Benavides, professor of English, won first place in commentary from the Public Media Journalists Association (PMJA) for her piece, "The Human Cost of a Broken Border," which aired in June 2019 on "Texas Matters" on Texas Public Radio (TPR).
Competing in Division AA, Professor Benavides won in a field that included entries from outlets in New York, Chicago, Los Angeles and Boston. You can listen online to her commentary about a father and daughter who drowned. The virtual awards ceremony was held on June 26.
"I feel strongly about contributing to the conversation about the border," Benavides said. "This particular situation covered in this commentary was happening during a very tumultuous time there with the so-called caravans, and the deaths of this man and his little daughter. So often I perceive a decided lack of compassion for immigrants coming from the U.S./Mexico Border.
"They have been vilified for so long. I really wanted to write about this story--this father and daughter who were following the rules and, in good faith, taking the little information provided to them about making the crossing into the United States. I wanted to be sure that people understand that immigrants are individual people with names, with hopes, and with stories."
This marks the second national award Professor Benavides has won since 2018 -- and the first time TPR has competed in the largest division. She won first place two years ago for her commentary, "In Plain Sight: Sexual Harassment in Places We Thought Were Safe." The award came from Public Radio News Directors, Inc., now known as PMJA.