OLLU installs new board chairman
Sep 30, 2019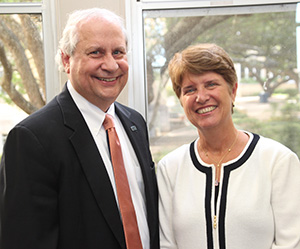 Paul Olivier was installed as the new chairman of the OLLU Board of Trustees on Sept. 26, 2019, during a ceremony in Sacred Heart Chapel.
After one board meeting, a fellow trustee approached him in the parking lot. "Paul," the trustee said, "you don't get Providence, do you?"
"No I don't," Olivier replied.
"It's not complex," the trustee said. "The Sisters tell you what to do, you do it, and they call it 'Providence.'"
That long ago exchange continues to evoke laughter. It also reminds Olivier, 67, the new chairman of the board of trustees, of an important truth: He is here to advance the mission of the university's founders, the Congregation of Divine Providence.
"Our mission is to continue this legacy that was started 125 years ago," Olivier said. "We have a legacy of giving and developing and being a beacon for lots of folks in this city. We've never lost sight of that. It's always been about others, not about us."
Elected to succeed Roy Terracina as board chair, Olivier brings a history of leadership and service to the position. He serves on the boards of Project Quest, the Elizabeth Ann Seton Home and the Catholic Community Foundation. He volunteers at the Guadalupe Community Center. For 41 years, Olivier enjoyed a stellar career at Frost Bank, retiring in 2017 as group executive Vice President.
"I spent much of my career facilitating the retail assimilation of over 20 bank acquisitions," Olivier said. "Along with our organic growth this led to a statewide retail distribution of over 130 branches and 1,500 plus employees."
He came to San Antonio and to OLLU, providentially. After graduating with two degrees from Louisiana State University, Olivier found himself married and unemployed. His wife, Evelyn, however, had secured a job as a medical librarian at University of Texas Health San Antonio. Olivier's father offered sage advice: Follow your bride.
After Evelyn went to work, Olivier went to Frost Bank. He got a job and in time came to work under Senior Vice President Clarence "C.J." Krause, the first lay person elected as OLLU board chair. Krause became a mentor. He introduced Olivier to the special charism of the university and to a frequent visitor at Frost bank: OLLU President Sister Elizabeth Anne Sueltenfuss.
Five years after Krause died, Olivier joined the OLLU board. Twelve years later, he serves as its new board chair. He enjoys a large family – three grown children, Elizabeth, Allison and Nicholas, and seven grandchildren, all girls – and serving the OLLU community.
"This is a good university and we will make it better," Olivier said. "Our job is to add to this legacy, not just enjoy the legacy. Through my eyes, I see the culture, the spirit and the mission growing."