Marketing major to attend HACU Leadership Institute
Oct 03, 2019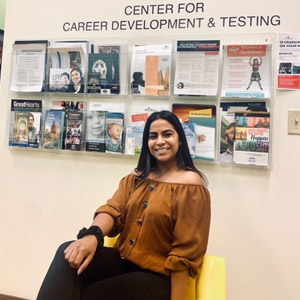 Junior marketing major Viridiana Mejia Montes has earned a $1,500 scholarship to attend the 33rd annual Hispanic Association of Colleges and Universities (HACU) iAdelante! Leadership Institute Oct 5-7 in Chicago.
The scholarship will cover all expenses and allow Viridiana to attend a career leadership and development networking symposium with more than 500 undergraduate students from across the U.S. and Puerto Rico.
Viridiana will meet with conference exhibitors and job recruiters to discuss career, internship, research and advanced education opportunities. She will attend presentations, workshops, luncheons and a town hall meeting.
In mid-September, Viridiana and 12 peers became the first OLLU students to participate in HACU's 18th Annual Latino Higher Education Leadership Institute in Austin, where they networked with representatives from several large companies, including the CIA, Google, Deloitte and USDA.
From that event in Austin, Viridiana became the first OLLU student to receive a scholarship for the HACU iAdelante! Leadership Institute.
"During the HACU Austin Summit, I received a lot of valuable information and experience that is useful for me now and for my future endeavors," Viridiana said. "I am very grateful to have assisted the summit as this gave me an even bigger opportunity to travel to Chicago and parktake in a conference that will not only allow me to grow -- but also allow me to network and have a larger understanding of the business world."